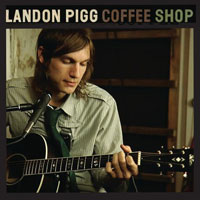 People often criticize the music industry for churning out cookie-cutter artists with nothing new to offer. That's not the case with RCA Records' artist Landon Pigg. On his latest release, Coffee Shop, Pigg serves up catchy pop/rock songs that are likely to get you reminiscing about long lost loves.
Pigg's vocals are soothing and refreshing, and his style simplistic yet powerful. Coffee Shop is a nice sampling of Pigg's work, some of which is reworked music off his full-length album, LP, originally released nearly two years ago while other tracks are completely new.
"Falling in Love at a Coffee Shop" is a melodically beautiful song, about admiration, that could easily do for Pigg's career what "You're Beautiful" did for James Blunt. "Great Companion," steadily builds into a grand song that echoes the indescribably overwhelming feeling that can result from love loss.
One song off Coffee Shop not found on Pigg's previous releases is his cover of "Young at Heart" made famous by fellow crooner Frank Sinatra. Pigg's version is sung with a heavy heart and although seemingly melancholy it's gorgeous and does the song justice. There's an air of sensitivity and genuine emotion behind Pigg's lyrics and vocals. To borrow from the young singer/songwriter there's a good chance that people might fall "quite hard over" Pigg.
By Esperanza Juarez