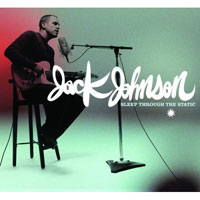 I cannot recall when or how I got hooked on Jack Johnson but it must have been my junior year in college. I heard his smash hit, "Flake" and that made me run to Tower Records and pick up the CD, Brushfire Fairytales. His smooth melodies and easy-going flow was too much to resist.
Here we are now in 2008 and Jack has put out 4 more albums since that first, Brushfire Fairytales CD. Jack Johnson is the kind of artist that you just buy his album without even hearing a hit song on the radio. I headed right over to Best Buy and picked up the CD and I felt good about supporting the musician and buying the CD.
I put the CD right in the car. My two favorite places to listen to new music are in the gym or in the car. At first listen I must say that I felt it was the same music that we came to expect from Jack. I felt that the music began to sound uniform and that he did not add any spice to it.
I must have been in a bad spot in my mind because I was totally wrong. I have now listened to the CD over 75 times and I love it more and more each time. What sticks out the most for me is how deep Jack goes lyrically on this album. He has such a skill for saying such profound things without screaming or yelling them at you. Just take a listen to the track, "Sleep Through The Static."
Overall this album is brilliant! I will be keeping it in the car for the rest of 2008 or until I put, In Between Dreams back in rotation. If you are a Jack fan this CD is a must, if you are not then do yourself a favor and give it a shot. Another masterpiece by Jack Johnson, the musician, father, husband, surfer, artist, genius, etc…
By Michael H. Friedman