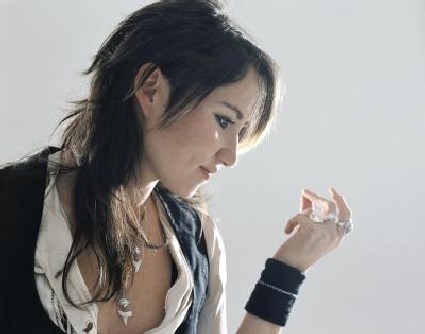 The wait for American fans of the Scottish-born singer-songwriter KT Tunstall to perform stateside is finally over as the multi-platinum artist launches her first full U.S. tour in support of her latest album Drastic Fantastic this spring. Opening the shows will be singer-songwriter Paddy Casey.
             
The tour – which begins May 3rd in San Diego, CA, and continues through the end of May – will be a close up personal affair, with Tunstall on acoustic guitar duties while the rest of the band perform various other unplugged acoustic instruments, such as double bass, harmonium, and mandolin. It will well suit the warm, rootsy tone of Tunstall's songs, taken from Drastic Fantastic, her Acoustic Extravaganza record, and her best-selling 2006 debut Eye to the Telescope.
She promises this will still be the same foot-stomping, energy packed evening out as any amped up gig. "The shows will be what we've nicknamed 'the campfire set' after the outdoor recordings we did for the Drastic Fantastic DVD." Tunstall says. "We wanted to try something a little different this time around and I think performing everything on acoustic instruments will afford these gigs a great vibe and give people a chance to see us play in a more intimate setting. We'll have some different arrangements, new versions of older songs, but don't worry, it's still going to rock!"
             
Tunstall says she is eager to hit the road in the U.S. and bring the songs from Drastic Fantastic to a live audience. Released by Relentless/Virgin Records on September 18th, the album scored a career high for the Grammy-Award nominated artist when it debuted at No. 9 on the Billboard chart.
It has been a hit with both fans and critics, who have raved that Tunstall has seized her moment. Blender praised Drastic Fantastic as a "strong second album that proves her success was no fluke;" the Los Angeles Times detected "a freshness in the performances and a new authority in her singing;" while Rolling Stone noted that Tunstall is "the one who's getting it done, tempering her folkie style with professional pop smarts."
In addition, the album's lead-off single, "Hold On," has been a multi-week No. 1 airplay smash in the AAA (adult alternative albums) format. Tunstall has performed the track live on The Today Show, Late Night With Conan O'Brien, Live With Regis and Kelly, CBS Saturday Early Show, Jimmy Kimmel Live, The Ellen DeGeneres Show, In The Loop with iVillage, Artists Den and had an extensive profile on CBS Sunday Morning.   She followed that run with performances of "Saving My Face" on The Today Show, Live with Regis and Kelly, The Morning Show with Mike & Juliet and Rachael Ray.   She also performed at the Nobel Peace Prize Concert in Oslo, Norway, in December. Most notably she was also honored to be on the Nov/Dec 07′ cover of Skope Magazine!            
Tickets for the Drastic Fantastic Campfire tour go on sale March 7th in some markets and continue through the following weeks. Please see below for tour routing and on-sale dates:
05/03               San Diego, CA, Spreckels   Theatre
05/04               Santa Barbara, CA, Marjorie Luke Theatre (on-sale March 11)
05/05               Los Angeles, CA, Wiltern
05/07               San Francisco, CA, Warfield
05/09               Portland, OR, Crystal Ballroom
05/10               Seattle, WA, Moore Theatre
05/11               Vancouver, BC, Commodore Ballroom (on-sale March 14)
05/14               Minneapolis, MN, State Theatre
05/15               Madison, WI, Barrymore
05/16               Chicago, IL, Vic Theatre (on-sale March 8)
05/17               Ann Arbor, MN, Power Center
05/19               Louisville, KY, Brown Theatre
05/20               Nashville, TN, Ryman Auditorium
05/21               Indianapolis, IN, Egyptian Room
05/23               Pittsburgh, PA, Carnegie Music Hall
05/24               Toronto, ON, Music Hall (on-sale March 7)
05/25               Toronto, ON, Music Hall (on-sale March 7)
05/27               Boston, MA, Orpheum Theatre (on-sale March 7)
05/28               New York, NY, Town Hall
05/29               New York, NY, Town Hall (on-sale March 14)