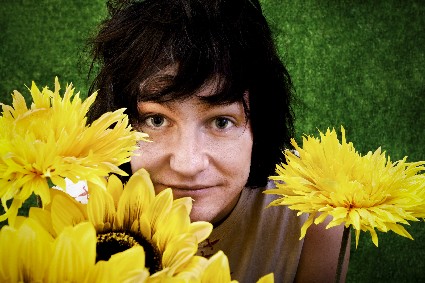 The Death Set's debut full-length album, Worldwide, will be released on April 22nd by Counter Records, the rock imprint of Ninja Tune. Preceding the release of Worldwide, is the "Around The World" etched 7″, out late March. The Death Set will be touring the U.S. in support of Worldwide throughout the spring.
Touted as "Best Live Band" by the Baltimore City Paper, and many who have shared their floor space, The Death Set jams blindsiding minute-songs into compact spaces. The live three-piece plays on the floor and at crowd level boasting rallying punk rock — breakneck fuzz sliced with lo-fi electronics   and searing vocals over-scored by a lift of positivity.
From the timeless call-to-upraise-arms of "Negative Thinking", through the rallying cry of "Intermission", the love-buzz of "Heard It All Before" along the serrated edge of "Cold Teeth", The Death Set's Worldwide boasts the endearing noise of unrefined creation. The Death Set's leader, the Australian-born, Baltimore-based, slight-sized, Johnny Siera, cites that frenzied energy as The Death Set's reason for being and their tight-knit DIY community as the fuel to keep going.
You can listen to the mp3 of The Death Set's "Negative Thinking" here: http://www.thedeathset.com/negativethinking.mp3.
[youtube MMWwPdkCJJM&rel=1]
The Death Set's Tour Dates:
Thu.   Mar. 6 Raleigh, NC @ Downtown Events Center
Fri. Mar. 7 Athens, GA @ Secret Squirrel w/ Red Rocket
Sat. Mar. 8 Atlanta, GA @ The Earl w/ Born Ruffians
Sun. Mar. 9 Pensacola, FL @ Sluggo's
Mon. Mar. 10 New Orleans, LA @ Dragon's Den
Tue. Mar. 11 Houston, TX @ Boondock's
Wed. Mar. 12 Austin, TX @ Emos Jr. – Terrorbird Party – 4:00 PM
Wed. Mar. 12 Austin, TX @ UT Tower Six Pack – Todd P Acoustic BBQ – 12:00 AM
Thu.   Mar. 13 Austin, TX @ Trophy's – Above The Radar Party – 2:30 PM
Thu. Mar. 13 Austin, TX @ Ms Bea's – Bikes In The Kitchen Party – 8:00 PM
Thu. Mar. 13 Austin, TX @ Elysium – Ninja Tune Showcase – 11:30 PM
Fri. Mar. 14 Austin, TX @ The Victory Grill – Vice Party – 5:15 PM
Sun. Mar. 16 Little Rock, AR @ Happy Fucker's House w/ These Are Powers
Mon. Mar. 17 Nashville, TN @ Exit/IN w/ These Are Powers
Tue. Mar. 18 Lexington, KY @ Skateshop w/ These Are Powers
Wed. Mar. 19 Greenville, NC @ Spazzatorium w/ These Are Powers
Fri. Mar. 28 Brooklyn, NY @ Glasslands Gallery w/ Mass Shivers
Wed. Apr. 16 Annadale-on-NY @ Bard College – Mutli-Purpose Room Campus Center Building
Thu. Apr. 17 Cleveland, OH @ B Side Liquor Lounge
Fri.   Apr. 18 Chicago, IL @ Empty Bottle w/ The Dodos
Sat. Apr. 19 Northfield, MN @ The Cave (Carleton College) w/ Enon, Singer
Tue. Apr. 22 Seattle, WA @ High Dive
Wed. Apr. 23 Portland, OR @ Holocene w/ DJ
Thu. Apr. 24 San Francisco, CA @ ATA
Mon. Apr. 28 Tucson, AZ @ Plush w/ Bonde do Role
Wed. Apr. 30 Austin, TX @ Emos w/ Bonde do Role
Thu. May 1 Dallas, TX @ Palladium Loft w/ Bonde do Role
Fri. May 2 Baton Rouge, LA @ Spanish Moon w/ Bonde do Role
Sat. May 3 Tallahassee, FL @ The Beta Bar w/ Bonde do Role
Sun. May 4 Pensacola, FL @ Sluggos
Mon. May 5 Gainesville, FL @ Common Grounds w/ Bonde do Role
Wed. May 7 Jacksonville, FL @ TSI w/ Bonde do Role
Thu. May 8 Orlando, FL @ Club Firestone w/ Bonde do Role
Fri. May 9 Atlanta, GA @ Drunken Unicorn @ MJQ Concourse w/ Bonde do Role
Sat. May 10 Chapel Hill, NC @ Local 506 w/ Bonde do Role
Mon. May 12 Baltimore, MD @ Sonar w/ Bonde do Role
Tue. May 13 Philadelphia, PA @ Johnny Brendas w/ Bonde do Role
Wed. May 14 Brooklyn, NY @ Europa Nightclub w/ Bonde do Role
Thu.   May 15 New York, NY @ Bowery Ballroom w/ Bonde do Role