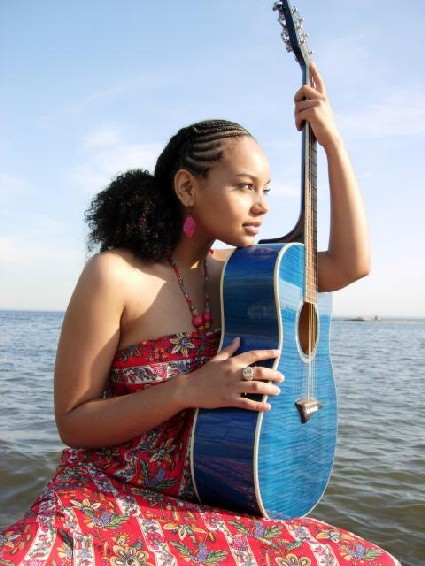 Anna Nyakana is a musician that we became very interested in after visiting her MySpace page. Her vocals and her delivery are simply amazing. With a deep family history and diverse influences Anna is worth giving a listen. Stoli had the chance to talk with this up & coming star and see where she is at.  
Stoli: What type of mood do you have to be in to create new music?
Anna: Personally, I feel the process of creating music is not defined by my mood. I create my music based on different situations that I, or others, may have gone through, so the masses can relate to it.
Stoli: What happened in your life that let you know you wanted a career in music?
Anna: Nothing in particular happened in my life to let me know I was going to have a career in music; I believe music chose me. I know that I am destined to create music and use it to unite all people.
Stoli: If someone was to ask what was special about your sound, what would you tell them?
Anna: I would tell them that what I think is special is the personal connection the fan discovers in my music. That is most important to me.
Stoli: Have your parents and family been supportive of your career endeavors in music?
Anna: Very much so! I can remember when I only performed live shows in the kitchen for my family. They were supportive then and have continued to be to this day.
Stoli: You have some major appearances coming up in Boston, what are you looking to display to the Boston viewers?
Anna: First, let me say that I am looking forward to returning to Boston and its rich music scene. I will be displaying what I love to do and that is to Keep True Music Alive. I will be on Comcast "Backstage with Barry Nolan" on March 11th at 8 pm as well as FOX 25 Morning News on April 11th.
Stoli: When you are on stage what do you do to try & connect with the audience?
Anna: I simply close my eyes, take a deep breathe, and fill the room with the positive energy from my music. I do this so that every single person, no matter their race, no matter their belief, no matter their music preference, feels the vibe.
Stoli: What do you feel about the digital revolution going on in the music business between the fans, artists, and the labels?
Anna: I feel that change is definite; therefore, I completely support the digital revolution. It has given me an opportunity to present myself to the world through digital distribution with over 30 companies including iTunes, Amazon, and Napster. Ten years ago, an unsigned artist, such as myself, did not have the ability to become internationally known. However, today fans, artists, and labels can share their passion for music by the click of a mouse.  
Stoli: Please explain why the crisis in Darfur is so dear to you & what Skope readers can do to help?
Anna: Being someone who is half Ugandan (African) and half Moldavian (Russian) I was born into this world as a woman of the nations. Therefore, as long as there is a nation of people suffering, I believe it is the responsibility of the rest of the world to end it. The crisis in Darfur is extremely dear to me because it began in 2003 and has yet been put to an end. I feel Skope readers can help by first educating themselves about the situation. Readers can visit the Save Darfur Coalition site at www.savedarfurcoalition.org.
For those in the New York area I along with reggae artists Luciano, Mikey General, and others will be performing in a benefit concert named "Reggae 4 Darfur." This show will be on March 29th at the Manhattan Center in the Grand Ballroom, 311 West 34th Street, New York, NY 10001. All proceeds will be donated to continue to spread the awareness of the conditions in Darfur.
Stoli: What can we look forward to from Anna Nyakana in 2008?
Anna: You can look forward to new music, more television appearances, shows, and radio. Keep in contact with me by visiting www.annanyakana.com  & www.myspace.com/annanyakana!