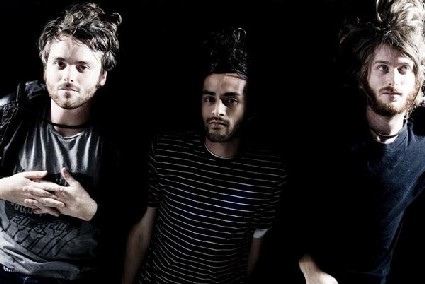 NORTH AMERICAN TOUR DATES AND COACHELLA CONFIRMED
Hailing from Melbourne, Australia, Midnight Juggernauts are proud to announce the release of their long-awaited debut album Dystopia on May 27th through Astralwerks.   Complementing this release will be an extensive U.S. Spring tour and Coachella appearance.   These are the same live shows that garnered extensive critical praise from the press and fans alike when they supported Justice, so do not miss your chance to see them!
[youtube LtynjqYUOvk]
The guys (Vincent Juggernaut, Andy Juggernaut & Daniel Stricker) originally started making music together casually in a friend's studio, songs of which can be heard on their upcoming release.   The guys could not have imagined what was just around the corner for them. Equipped with select tracks available on their Myspace, the band soon began to tally up countless virtual friends and requests.   Shortly thereafter, a chance meeting with Parisian Ed Banger's Justice took place and after hearing the album and seeing them live, they promptly urged the trio to join them on a voyage across the United States during the fall of 2007.
With this opportunity to perform outside of their homeland, all ears were certainly eager to hear what these fellows had to offer. Midnight Juggernauts certainly did not disappoint and soon became a familiar name and sound in the USA, leaving music fans yearning for more. With their intense dance-oriented live performances, flirting with sounds reminiscent of E.L.O, Air and Eno-esque synth arrangements, it became clear to most that no one else sounded quite like they do. Consequently, record deals were offered and the press soon began to spread the word.
Now, Astralwerks is proud to announce the release of their already critically acclaimed debut Dystopia out on May 27th, a headlining North American tour with Shy Child supporting, plus a Coachella performance.
MIDNIGHT JUGGERNAUTS NORTH AMERICAN TOUR DATES with Shy Child
4/22       Vancouver, BC                     Richard's
4/23       San Francisco, CA             Mezzanine
4/25       Indio, CA                             Coachella
4/29       Denver , CO                         Hi-dive
5/2         Chicago, IL                         Double Door
5/3         Toronto, Ontario               Anti
5/4         Montreal, Quebec               Les Saints
5/6         Washington, DC   9:30 Club
5/7         Philadelphia, PA               Johnny Brenda's
5/9         New York, NY                       Bowery Ballroom
http://www.midnightjuggernauts.com/        
www.myspace.com/midnightjuggernauts