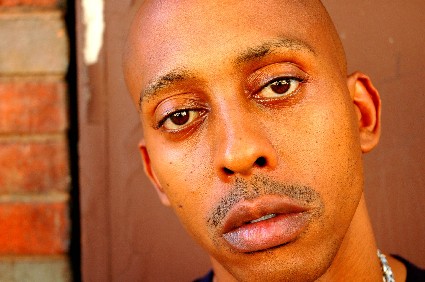 Gillie Da Kid is a "Major Figga" in the rap game in more ways than one. This brotha from Philly has been through the ups and downs and still keeps his composure to succeed in this rap game. Stoli sits down with Gillie as he opens up and offers real talk on where he is at and where he is going!
Stoli: How did you come up with the name, Gillie Da Kid?
G: IT WAS REALLY A PLAY OFF OF BILLIE DA KID..MY MOM'S NAME IS GILDA..AND EVERYONE ALWAYS CALLED ME GILLIE AS A NICKNAME..SO IT JUST KIND OF WORKED.
Stoli: At what point in life did you know that you wanted a career in hip hop?
G: THE RAP THING KIND OF CAME ALONG UNEXPECTEDLY..I CAN'T SAY I JUST WOKE UP ONE DAY AND SAID "I WANT TO BE A RAPPER" IT JUST KIND OF HAPPENED..
Stoli: Was it a major setback when Major Figgas broke apart?
G: MAJOR FIGGAS HAS NEVER BROKEN APART…EVERYONE IS STILL AROUND EXCEPT FOR SPADE-O, SHOUT OUT SPADE, HOLD YA HEAD MY NIGGA..WE HAVE AND ALWAYS WILL BE FIGGAS 4 LIFE..THE MF TATTOOS ON EVERYONE ARE THERE FOR A REASON…EVERYONE IS STILL AROUND AND WE ARE STILL AND WILL ALWAYS BE MAJOR FIGGAS…WE JUST ARE ALL KIND OF OUT HERE DOIN OUR OWN THING…THE FIGGAS ARE JUST WAITING FOR ME TO KICK THE DOOR IN SO WE CAN ALL COME THROUGH..YA DIG?
Stoli: There are alot of beefs in hip hop. Do you feel that alot of it is to help sell records & get publicity?
G: I CAN'T SPEAK ON EVERYONE AND THE BEEFS THEY HAVE..SURE THE GAME IS ABOUT ENTERTAINMENT AND PEOPLE LOVE TO BE ENTERTAINED..BUT MY ONLY ISSUE IS WHEN YOU GOT A BEEF WITH SOMEONE, IT HAS TO BE LEGITIMATE, YOU CAN'T JUST GO AROUND BEEFIN WITH PEOPLE AND MAKING DISS RECORDS WHEN THERE ISN'T ANYTHING BEHIND IT…MY BEEF WASN'T ABOUT PUBLICITY OR SELLIN RECORDS…MY BEEF WAS PERSONAL..THAT WAS MY YOUNGIN..MY LITTLE HOMIE WHO HAD TO BE SPANKED A LITTLE BIT FOR STEPPIN OUT OF POCKET…
Stoli: Have you ever had the chance to have a final word with Cash Money members of how they back-doored you?
G: WHAT IS THERE TO REALLY SAY? EVERYONE KNOWS HOW BABY GETS DOWN..THERE'S A REASON WHY EVERYONE LEFT…I'VE MOVED PAST THE CASH MONEY SHIT…IT IS WHAT IT IS…
Stoli: Would you say that being a busy emcee like you are, it's almost impossible to be monogamous to one shorty?
G: HAHAHA…
Stoli: When you go out at night do you prefer going to the club, strip club, or bar?
G: I CAN'T SAY I PREFER ANY OF THE ABOVE..GOING OUT IS AN EVENT IN PHILLY WHEN THE KING OF PHILLY THROWS A PARTY AND EVERYONE IN PHILADELPHIA WHO THROWS PARTIES SHUTS THEIR EVENTS DOWN BECAUSE THEY KNOW WHERE EVERYONE IS PARTYING AT…MAKING MONEY..THAT'S WHAT I PREFER..
Stoli: You have done alot in hip hop, what will it take to get that mainstream recognition you deserve?
G: THE RIGHT MARKETING..AND THE RIGHT NIGGAS BELIEVING IN YOU AND STANDING BEHIND WHAT YOUR DOIN…WHAT'S MOST IMPORTANT TO ME AT THE END OF THE DAY IS THAT PEOPLE RESPECT ME NOT ONLY AS A RAPPER BUT A REAL NIGGA…AND ONCE I HIT THAT TELEVISION SCREEN…AND THEY COMPARE ME TO SHORTY…THE MAINSTREAM RECOGNITION WILL BE INEVITABLE…
Stoli: Is the entourage that you have with you the same brothas from back in Philly or new cats?
G: IVE BEEN ROLLIN WITH THE SAME PEOPLE FOR THE PAST 10 YEARS…
Stoli: When you are chilling, do you prefer a nice smoke session or some Henny and beer?
G: SMOKE..DEFINITELY SMOKE…
Stoli: How do you feel about hip hop today and where do you see your place?
G: I SEE MYSELF BEING AT THE TOP OF MY GAME..AS FAR AS HIP HOP TODAY, I THINK THAT THE SYSTEM THE LABELS HAVE USED UP UNTIL THIS POINT ISN'T WORKING ANYMORE..RECORDS AINT SELLIN BECAUSE THEY ARE MORE CONCERNED WITH RINGTONES AND SINGLES THAN THEY ARE WITH ACTUAL ARTIST DEVELOPMENT AND REAL TALENT..A SONG IS MORE IMPORTANT TO THEM THAN AN ARTIST IS…WHEN YOU LOOK AT JEEZY'S ALBUM…HE SOLD RECORDS…50 SOLD RECORDS..KANYE SOLD RECORDS..BUT THAT'S BECAUSE THESE ARE ARTISTS WHO ARE MAKING MUSIC..NOT RINGTONE SONGS..YA DIG?
Stoli: How much of your real life is expressed in your lyrics?
G: I ONLY SPEAK THE TRUTH…EVERYTHING I SPIT ON EVERY RECORD IS WHO I AM..A REAL NIGGA IS NOT SOMEONE WHO LIES IN THEIR LINES..BUT WHO SPEAKS THE TRUTH IN THE BOOTH..YA DIG?
Stoli: What can we look for from Gille Da Kid in 2008?
G: THE ALBUM…GET IT HOW YOU LIVE..IT WILL BE OUT LATER THIS YEAR..KEEP AN EYE OUT..ALSO MAKE SURE TO VISIT MY MYSPACE PAGE…WWW.MYSPACE.COM/FIGGA4LIFEENT