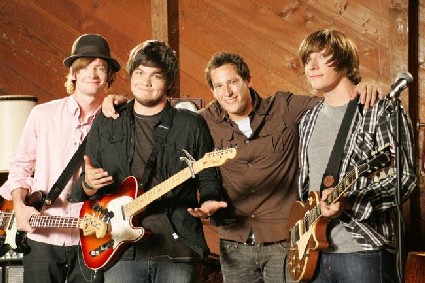 The Spill Canvas are the new rock sensation to hit the major label circuit. These boys hail from South Dakota but are taking their music all over the world. They have a slew of tour dates and a new album, 'No Really, I'm Fine' out now! Check out what's up with The Spill canvas!
The Spill Canvas- "All Over You"
Youtube:
http://www.youtube.com/watch?v=DV3tLQ2uGzs
Skope: How did you come up with the name The Spill Canvas?
SC: In all honestly it was a little phrase that stood out to me in one of my random lyric journals. The name has also taken on new meanings for me personally as the years have passed. I like to leave the name up to the listener to make it their own.
Skope: At what point did you know that SIRE/One Eleven was interested in signing the band? What was your initial reaction?
SC: Well we are actually signed to just Sire now and 111 was the indie label we started on a few years back. In any event, when a label is interested in taking your music/passion to new levels, it's always exciting. We are very pleased with our position right now, business-wise.
Skope: What is the process for getting ready to record a new album? Are you pleased with the musical production?
SC: Well we took off about 3   months around the winter holidays to begin the writing process and after roughly 30 songs/demos we began preproduction with our producer, Neal Avron, in Hollywood. Looking back, it was the single most amazing expirience we've ever been through as musicians and human beings. I've never been more proud of something I've accomplished….its a good feeling.
Skope: You have been touring at an incredible pace, what do you enjoy the most being on the road?
SC: Getting paid for playing music with my friends, seeing the country, and meeting amazing people. It's fairly obvious how awesome it is.
Skope: Were your families supportive of your decision to be musicians as a career?
SC: Our families are amazing. They support endlessly and we couldn't do it without them.
Skope: What is your favorite city in the USA to perform and why?
SC: Unfortunately that question is too difficult to answer, but I CAN say however that getting to play music to music supporters and fans everywhere is my favorite.
Skope: How did The Spill Canvas' band members all come together and create a band?
SC: After starting spill as an acoustic outfit, it remained that way for about 2 years until I finally began to piece together the right members that make out the full rock line up today. We all live music, and as time went on, it became obvious we wanted to do it as a living.
Skope: What was life like in South Dakota prior to being in a succesful band?
SC: Pretty much the exact same. We're just human beings doing the best we can, and our small hometown keeps us grounded. Success will obviously always bring on negative outsiders that want to bring the ship down, but we have never paid any attention to that, nor will we ever.
Skope: What are the clear advantages to being on a major label as opposed to an indie?
SC: The basics here are better distribution, and a wider array of resources to tap into to make the project live up to it's fullest potential.
Skope: The whole music scene is evolving with technology, do you still see fans using CD's in 10 years from now?
SC: Maybe, but I never would have guessed the ipod, so my predictions are probably pretty useless.
Skope: What can we look forward to from The Spill Canvas in the next 6 months?
SC: Lots and lots of touring to support the brand new record. Come out and have some fun with us!
Skope: Thank you and much luv!
www.myspace.com/tsc