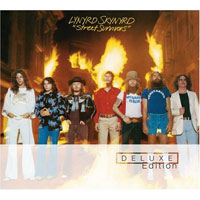 Street Survivors, was the most anticipated Lynyrd Skynyrd album. It went gold instantly but on October 20th, 1977, just three days after its release, the band's tour plane ran out of gas and crashed into a Mississippi forest, killing Ronnie Van Zant, Steve Gaines, his singer sister Cassie Gaines, and their road manager, and seriously injuring the other band members. The album reached double platinum and scored a Top 10 hit in "What's Your Name." Ronnie Van Zant considered Street Survivors Lynyrd Skynyrd's greatest achievement. A year in the making, the album was recorded twice. Now, on the two-CD Street Survivors Deluxe Edition – 30th Anniversary to be released March 2008, the previously unreleased first version debuts alongside the final studio album from the original Lynyrd Skynyrd issued in 1977.
The package features the never before issued last known recordings of the band; five songs performed live at a Fresno, CA concert less than two months before the group's tragic plane crash. By 1977, the Jacksonville, FL band–singer Van Zant, guitarists Allen Collins and Gary Rossington, keyboardist Billy Powell, bassist Leon Wilkeson, and drummer Artimus Pyle had scored four hit albums and become one of America's top concert bands. The first version was recorded at Miami's Criteria Studios in winter 1976 and spring 1977 with renowned producer Tom Dowd. But, dissatisfied with the results, Skynyrd returned that summer to Studio One in Atlanta, where "Free Bird" and "Sweet Home Alabama" had been recorded, and produced the released version themselves.
On Street Survivors Deluxe, both versions are heard of "You Got That Right," "I Never Dreamed" and "Ain't No Good Life" (the original with background vocals by the Honkettes); three versions of "That Smell" (including a never-before-heard extended guitar jam); a previously unreleased "What's Your Name," and a song dropped from the album, "Sweet Little Missy," as a demo and a master of the also axed "Georgia Peaches." Replacing the two deleted songs were "One More Time," a newly overdubbed track from six years earlier, and Merle Haggard's "Honky Tonk Night Time Man." A Deluxe Edition bonus is Van Zant's autobiographical rewrite titled "Jacksonville Kid," the last song he wrote and recorded. This a wonderful collection of songs that revisits the late 70's in a way only Lynyrd Skynyrd could.
By Diana Olson