STOLI GETS DOWN TO BUSINESS WITH VOD RECORDINGS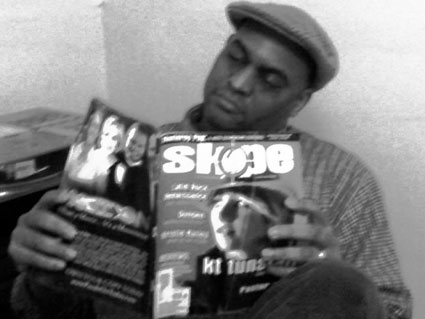 VOD Recordings is a record label based in Massachusetts right outside Boston. They are a major sponsor of Skope Magazine and they have got alot going on. Stoli sat down with the CEO, Darian Worrell to see just what VOD is up to and where they are headed. A great indie label making major moves!
By: Stoli Razz
Stoli: How long have you been working on VOD and how did you get started with your own label?
VOD: VOD has been in existence since 2004. In the area that I was living in at the time I had the opportunity to take that risk and start my own label and I was fortunate enough to meet some cool artists that had the same vision as I at that particular time. The goal was to be creative with our music and to bring something different to the table. That philosophy hasn't changed after four years in the business and it will continue to be what drives VOD and it's artists to provide good quality & creative music to it's fans
Stoli: How many artists do you currently have on your roster?
VOD: Because we have such an eclectic mix of music, the number of artists fluctuates depending on the project. VOD has a stable of artists, from which to choose, most of whom are genre specific. To have a set roster at this stage of our existence wouldn't be beneficial to us or our artists.
Stoli: What do you look for in an artist that lets you know that you want to sign them?
VOD: The total package is what we look for in an artist and what I mean by that is they have to have a general love, respect, and admiration for the genre of music that they are making, as well as personality, creativity, a general knowledge of the business, and the drive and determination to be a successful artist. You can have all the talent in the world but if you don't have those other components to go along with it then chances are you won't get to the next level.
Stoli: Does your label deal with one genre of music or do you have multiple genres represented?
VOD: We started primarily as a hip hop label but now we're looking to expand into other genre's of music. This might be the year that we totally break ground on some new ideas so stay tuned.
Stoli: In this day of downloading, how has that changed your strategy when putting out an album?
VOD: It's an open market in today's music world and buying an album is not as exciting as it once was. Downloading has given the music listener a choice of what they want to hear & own. It's helped us to a certain degree because it fits within our marketing strategy but I can honestly say that we've never had to change our approach to releasing an album because of downloading.
Stoli: What have you found to be the most effective way to promote an artist on your label?
VOD:Definitely the internet. Over the last few years we've seen our fan base grow tremendously and that's a direct result of gorilla marketing. We're always keeping folks informed as to what's happening with VOD and our artists and thankfully, that's what keeps them interested and coming back.
Stoli: What are you most proud of that VOD has done over the past year or so?
VOD:Stay in business….LOL. With the music industry being the way it is these days it appears that the demand for certain types of music is progressively shrinking which is why we're constantly analyzing the industry as a whole and changing the way we market our product. So yes, in this day and age, with what's happening industry wide, waking up every day and knowing that we're still in the game is definitely something to be proud of.
Stoli: What would you say is an advantage to being an indie label as opposed to major label?
VOD: The internet has definitely leveled the playing field a little bit but there's still a huge disparity when it comes to distribution and radio play. The one advantage we have is that our artists have their own vision of how they want their music produced and presented to the public and we work with them on developing a marketing plan that fits their needs as well as ours. It's all about that personal touch and sometimes the major labels can't give that to their artist.
Stoli: If an artist wants to be signed to VOD, what would you suggest that they do?
VOD: I would say that they would have to be original, confident, able to perform, and to know a little bit about VOD before sending a demo.
Stoli: You have been a major sponsor for Skope Magazine, what makes Skope a great fit for VOD's marketing campaign?
VOD: Skope has been instrumental in the success that we've had over the last year and we're very happy to be part of such a dynamic and exciting publication. We've advertised with larger publications in the past but we haven't always received the high level of service and commitment that Skope gives to it's advertisers and independent musicians, which is why it makes this a good fit for what what we're trying to accomplish with our marketing strategy.
Stoli: Where do see music in 5 years in regards to creating & selling music to the fans?
VOD: You'll see less distribution of music to retail stores, and more digital distribution. Vinyl is becoming extinct, 8 tracks died over 20 yrs ago. The cassette boom has all but ended and CD's are slowly but surely fading away. In today's technologically advancing climate, we at VOD will be working diligently to keep up with the changes.   In reality the consumer is in the driver's seat, so we plan to be prepared to answer their needs.
Stoli: What can we look for from VOD in 2008?
VOD: We released Bays Fresh to Def EP in January. Mr Dar's Changing Channels EP will probably be in stores by the end of February. Deep Green's Deep Green Rising project will be released in March and we have a young and upcoming artist by the name of Thugsicc out of Pullman, WA that will be joining the VOD family. Overall I think this might be our break out year…
www.vodrecordings.com
Darian Worrell – vodrecordings@yahoo.com