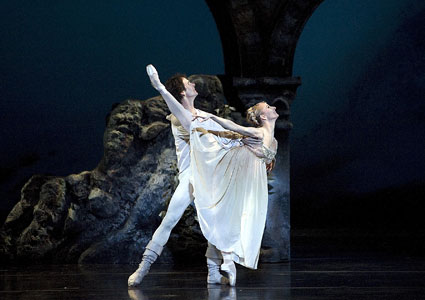 Words: Stoli Razz
Photos: Gene Schiavone
Last night (2/14) as we all know was the coveted night of love. Love was in the air in Boston that is for sure. I was invited by my friends at Goodman Media to take my Valentine to see the opening night of Romeo & Juliet at the Wang Theater in Boston, MA. This performance was being done by the world famous, Boston Ballet.
Now I know what many of you are thinking, why is Skope sending someone to see a ballet? Well you see at Skope, we go by the motto, "For The Love of Music." One thing this ballet had was amazing music.
We started out our night at California Pizza Kitchen in the theatre district. I am a sucker for their pizza and appetizers. I actually used to wait tables there while in college. The theatre is right across the street from the Wang so it was perfect.
We arrived at 6:45 pm and immediately were greeted by a very polite woman who had our tickets waiting. We then headed right to the bar for some wine to help get us in the mood. You cannot bring alcohol into the theater so you have to maximize your drinks before heading to your seat. No problem for The Razz!
The show began right on time at 7:15 pm. For those that have never been, the Wang Theater is gorgeous in every way. We had perfect seats right in the middle and the place was packed. I had a feeling it would be sold out.
There is no reason for me to recite the classic story of Romeo & Juliet. Everyone knows how the story begins and sadly ends. But what I can talk about is the details that went into the show. The scenery first of all was authentic. It really looked like the performers were in Verona, Italy. You could imagine that the scene was taking place in Italy in the 1400's.
The performers were brilliant. The dancing and singing were so well in sync with the music it went without a glitch. This show had a nice amount of sword fighting which was cool. It was rather action packed for a ballet. The ladies were very attractive and they played their roles perfectly. There was no dialogue, which was nice as it lets the audience improvise what is going on. The music tells the story of what is happening.
The show ran until about 9:30 with two intermissions. It did not seem too long though as there was a lot of action. After the show was over, I felt very cultured. It was a new experience for me and I cannot wait to do it again. If you are in Boston or coming to our fine city go take that special someone and see Romeo & Juliet, it's well worth it!
Performance Schedule: Tickets on sale now – visit Telecharge.com
Thursday, February 14 and February 28 at 7pm
Friday, February 15 and February 29 at 8pm
Saturday, February 16 and March 1 at 2pm and 8pm
Sunday, February 17 at 2pm and 7pm
Sunday, March 2 at 2pm