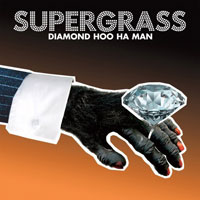 "The Brit-Pop is Coming, The Brit Pop is Coming". Ready for another British invasion? Landing in stores near you on April 15th is Diamond Hoo Ha Man by Supergrass, their latest release on Parlophone/Capitol Records.
If you like Brit-Pop, Diamond Hoo Ha doesn't fail to satisfy. These Oxford lads could easily be on the road with The White Stripes, The Killers, or any one of the top artists in this ever-expanding genre. Add in a bit of Pink Floyd flavor — especially in "Return of Inspiration", some '80s retro-funk to mix it up a bit in "Rough Knuckles", even some vocals that make you think Bono found a way to make himself 20 years younger… and these Brits have earned the respect of this Yank. Did I almost forget to mention a hint of Zeppelin in "Bad Blood"? MMMmmm Zeppelin… yummy!
With a generally positive/upbeat message and style of music, Supergrass looks to have a long career ahead of them. Incorporating so many of the sounds so many of us have grown to love, how can they not be around for a long time???
Judging by their UK calendar, look for Supergrass coming to a university near you as they make their way over to The States.  
By Gary Jacobs