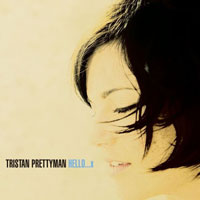 Former competitive surfer, Tristan Prettyman, says her new album Hello (to be released in March 2008) "is a reflection of me". This CD, Tristans 3rd, is full of stories about her life, loves and heartbreaks. Many see her as the new young pop folkie.
Hello is an upbeat folk song that has poetic lyrics that aren't too overdone. Tristans gentle folk-pop sound is romantically pure on the single release song "Madly Madly". However, the two songs on the album that I think carry the most marketability are "Echo" and "War Outta Peace". Both have beautiful acoustic guitar and are upbeat and more pop than folk.Tristan has a way of combining her love letter lyrics with an upbeat attitude on these two.
"California Girl" and "Handshake Agreement" both have a nice country twang to them with similar lyrics and mood. I nearly fell asleep during the last four selections on the album. They are all a soft-spoken folk, at times nearly whispered in a pretty much monotone voice. The poetic lyrics are creative but some of the words run together and are a little depressing. Still, they have a calming effect and are simplistically pretty.
If you like the acoustic guitar and soft-spoken folk, you will like Tristan Prettyman.
By Diana Olson