Stoli interviews AP (aka All Profit aka Apply Pressure  )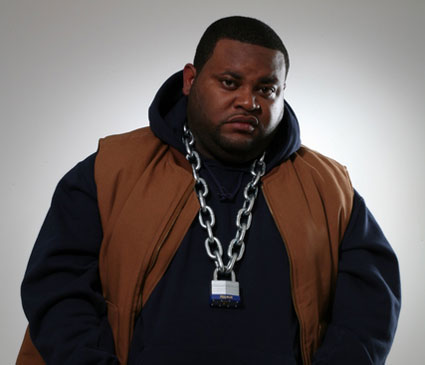 Stoli: With so many aliases, what do you prefer people call you out on the streets?
AP: On the streets AP is fine…all the different alias names just represent a different part of my personality… Whether its Apply Pressure when it come to spitting bars or Aim 2 Please when it comes to the women..lol…but in my day to day AP would mean Always Progress. That's what I strive to do whenever I step in the world.
Stoli: Alot of industry folks are saying that you are the next up in hop hop. Does that add alot of pressure to make hits?
AP: Nah the pressure of music is easy. Life is hard. The pressure to win in that is hard enough!! I do this straight from the heart…I'm an open book so pressure and hits aint what I think about. I'm a lover of all great music and it just so happens my life is a drama with no script. You put those 2 things together and magic happens. I go in and reflect the moods and moments of my past and present and vibe to a great backdrop and I imitate the great music that influenced me. My whole project is vibed like that. Great insight over instrumental!
Stoli: How did growing up in Elizabeth, NJ help shape you as an emcee today?
AP: Elizabeth NJ shaped and molded my thoughts and moods. Its the same place that made me cry in pain and I also had some of the best years of my life there too. My mother moved me out the hood at the age of 16..but it was too late…all the dirt I learned evrything I seen had already influenced me so strongly that wherever I'm at in the world I'm in a Eastwick (Elizabeth) state of mind!! I seen niggas make it…I seen niggas fall…the glory the glamour and gore…I rep it all…it made me move how I move.
Stoli: Has working with Treach of Naughty By Nature, helped teach you more about the industry and hip hop game?
AP: Of course!!! That man is more to me than a legend…not just cause he's lyrically ill but more importantly because he's from Jersey!! That make the dream seem acheivable cause he right from my neck of the woods goin thru the same shit we go thru. Meeting him and playin my records for him was one of the surreal moments in my life. Just to hear that man reflect on the ups and downsin his career from then to now was crazy!! The fact that he was even working with me at all taught me that even the legends can remain humble. His focus was incredible. He was bout his business in the studio and just to be in the presense of seein that man work was an honor. As a rapper its just one of them moments….like lebron shootin with mj…or a new actor trading lines with pacino. Being on the receiving end of the experience you just pray you can be at that level one day…
Stoli: If another emcee has the balls to step to you in a battle rhyme would you deal with them lyrically or in the steets?
AP: This is a bloodsport so its expected….the thing is I never was a battler. I always cared about my bars and kept them sharp and up to par…but battlin or even to be the best on the block was never my focus. So it would really depend on who the emcee is and what he got to say to move me. As far as the street shit my niggas will protect me to no end. I don't bring or consume that type of energy to take it to the streets. But my niggas get loose…lol. So all in all I'm here to make great music and better my situation and my people situation….so if and when it come….we will deal with it accordingly…
Stoli: Do you still roll with the same cats that you did coming up in the streets?
AP: I keep nothing but family around me. 10 year plus people. And evrybody who got love for me is day 1 love and I always show that back. My family consist of 7 or 8 close friends…some of them may not even get along with eachother and the common bond is me. Regardless I stick to my day one people. They keep it extra funky with me whether I'm wrong or right and they keep me grounded…
Stoli: Do you feel discouraged that downloading makes it more tough for an emcee to make a living off hip hop?
AP: Downloading don't bother me like that. I wanna be heard!! Hiphop is my relegion and even though the money aint what it use to be I feel like I got a good business sense and some hustle in me to make other things happen off the music. So if I aint sellin a lot of music I'm sellin a lot of some other form of entertainment. When u coming from having a little something you learn to make a way and fight for the whole pie….
Stoli: What are you looking to accomplish with your music besides $$ & fame?
AP: I just want somebody to say I felt where he was coming from. I want the critical acclaim. I want the son with no voice to look at me and say I gave him one. I wanna make the old school rappers proud. I wanna bring it back to the people just enjoyin the music again and becoming fans of real hiphop.
Stoli: Your full length is entitled, ' My Fathers Son'. How was your relationship with your father?
AP: My relationship with my father was great!! Sometimes too good. I say that because having such a good bond with him exposed me to know and see too much too young. I seen a lot of crazy shit go on but all in he was my hero. When he died it just left me with memories of his actions and his words. The words aint match his actions though. All his actions I avoid as an adult..his words telling me to make sure I'm a better man than him has stuck with me forever.
Stoli: Alot of rappers come up and produce hot music. Then they blow up and go soft. How will you avoid doing that same thing?
AP: I'm grounded based on all I seen and all I do. These situations have shaped and molded me as a child into a man. I can't never let that go so I can't never let my edge go.
Stoli: Do you feel that the average cat on the streets coming up can relate with all the commercial hip hop on the airwaves?
AP: A lot of these dudes can and some can't…this is all music to suit where u at. Whether its at a party or on the block that's what the music reps. I love it personally…cause I be in them moods sometimes, but When I do what I do…I makin music based on where I been and where I'm going. Average cats don't got money or pop bottles. But everybody know pain. Evrybody got dreams and aspirations evrybody has loss and wanna vow to win somehow some way…and that what my movement is about. That's what my music is…
Stoli: What can we look forward to from AP in 2008?
AP: 2008 we got STILL NAUGHTY of course!! I'm still working on MY FATHERS SON…I'm still remixing anything crazy…I got the Hen and AB project coming…just a lot of work. Check my new blog site www. Theallbetsdownexperience. Blogspot.com. The myspace page www. Myspace.com/allbetsdown.
Just get use to seeing AP and hearing that real vintage HIPHOP!
Watch the video for "Keep Trying"
[youtube ler8ue87uw8 nolink]