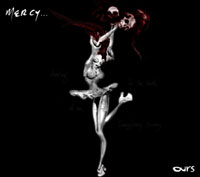 Five years in the making, Ours' long awaited junior effort Mercy (Dancing for the Death of an Imaginary Enemy) re-ignites the fiery furnace of sensuously dark rock that first caught the world's attention nearly 15 years ago. It seemed that the inferno behind Ours and its enigmatic frontman Jimmy Gnecco was beginning to smolder after the band took nearly five years off to write and record Mercy… but you can't rush brilliance. And Mercy… is, indeed, brilliant.
After wanting to sign the band 10 years ago, producer Rick Rubin finally got the chance to work with Gnecco and his revolving lineup of musicians that make up Ours. Rubin's influence is certainly distinct and welcomed throughout the album. Ours has never sounded more mature or more focused. Mercy… is tight, strong, and dauntingly memorable. The dramatic, almost gothic, instrumentation compliments the ethereal voice of Gnecco perfectly but the overall mood of Mercy… never seems overdone or pretentious. There's a certain sense of joy trapped beneath the yearning croons of Gnecco that lifts the whole album to new heights.
Though Ours has never been a huge commercial success, Gnecco and company have always garnered the attention of major labels. Perhaps big labels have better taste than we once thought or the promise of an eventual mainstream breakthrough is all too alluring. Whatever the case, Ours and Rubin together is a dynamic combination that has created the most naturally moving piece of work in Ours' 14 year career.
By  Matthew Godbey