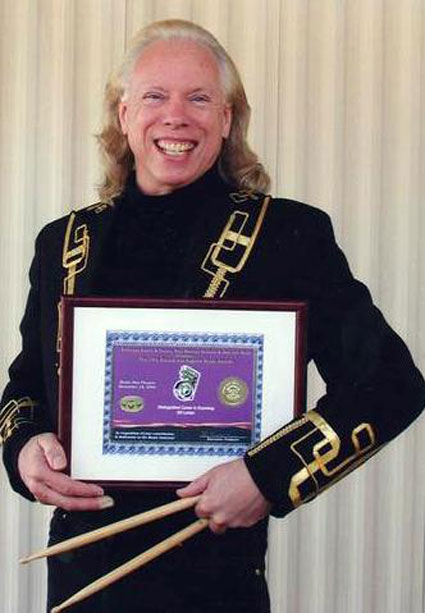 After a long and very successful career you would think Bill Lordan would begin slowing down. That's hardly the case. This internationally famous drummer, songwriter and visionary is just finding himself. In 2004, Bill won the L.A. music awards for lifetime achievement and distinguished career in drumming as well as Independent Rock Album of the year for "Here Comes the Storm". In 2006 he was inducted into the Minnesota Rock 1 Hall of fame for lifetime achievement and for a band he played in from Minneapolis called "The Mystics". In April 2007 he was inducted again to the Minnesota Rock Hall of fame for the time he spent in "Gypsy". He has been asked to be on numerous Radio programs and is also being pursued for documentaries, writing his autobiography, doing interviews, recording projects, producing and doing special performances. He has released his new CD, "The Best of BLX" (Bill Lordan Experiment) which is packed full of famous artists with the exquisite song writing and style of this amazing man.
Of his extensive career, Bill said the following; "When I was in sixth grade, Sister Thomas Martin asked the class who wanted to learn how to play drums after school. I was the third kid to raise my hand and three students was her limit. So I started lessons with her after school, about three days a week. When we started our lessons, we used practice pads made of wood and rubber. She showed us the basic rudiments. The one I remember most was the double stroke roll, which she referred to as 'the momma- daddy'… right, right; left, left. It was Sister Thomas Martin who sparked my initial interest in drumming. My first kit was a four-piece Gretch White Pearl. I have a black and white snapshot of my first kit in my scrapbook, from 1961. As a kid, I would go downtown and I was always intrigued by the display window of the shop where I bought my set."
"I had neighborhood friends, including Willy Murphy. He had a piano and I had drums. My first jam was with Willy and that led to our first band called the Valdons, a soul band. We played little places, like the Boys Club or Matty's Barbeque, at Lake and Nicollet across from Mr. Luckys and I would sit on the food side on the break because I wasn't old enough to play in bars. I later played in some soul bands in St. Paul. One was called the Blue Notes, the other one (that's being inducted in the Hall of Fame) was The Amazers. They had previously been a Gospel group from Dallas, Texas called the Mighty Golden Voices. They came to Minneapolis and decided to live here and started an R & B Band and my name came up as a drummer. We recorded "Its You For Me" which became a number one hit on the soul charts. We recorded in Chicago with Curtis Mayfield and the Impressions. Because we had a success, we played some soul clubs and got some national exposure. After that run, I had made contacts with the band the Esquires, in Milwaukee who had a number one song "Get on Up". We toured the entire United States, played the Apollo Theatre in New York, the Twenty Grand, and The Rooster Tail in Detroit, all the soul Theatres, nightclubs, college circuit, like the Uptown in Philadelphia, and the Howard theatre in Washington. We were in Washington DC when Martin Luther King was assassinated. I was the only white guy in the band. I had to hide in the back of the van due to the mass rioting, looting, and chaos in the inner city. We finally did get out of town safely. We also played Boston at the Sugar Shack. After the Esquires, I came back home to Minnesota. One night I was with the Amazers and Mike and Butch Stokes (who were with Michaels Mystics) came out to see Willie Weeks (The Amazers bass player) and I. Willy has played with Donny Hathaway, Roberta Flack, Stevie Wonder, everybody. He is national now and plays with big artists such as Wynona Judd and Vince Gill. We made arrangements to audition with them. We were moving up and changing and we had gone as far as we could with the Amazers so we joined a group called Michaels Mystics. With them we recorded a song called "Pain" and won the Connie Awards (which later became The Minnesota Music Awards). This was in 1969. I won the best drummer, the band won the best band, and Willie won the best bass player. We stayed with the Mystics for a year or two."
"We met Joey Davis Southern, who was a friend of Buddy Miles and through him, Joey knew Jimi Hendrix. One day Willie and I, on kind of a bet or a dare, said to Joey that we were tired of what we were doing and can he get us a jam with Jimi Hendrix because we were big fans. Joey didn't say much, but came back a week or so later with a limousine and said we were going to New York. Joey had made a call through Buddy Miles. Willie, Joey and I flew to New York and stayed at the Penn Garden hotel across from Madison Square Garden. That is where Buddy stayed. We proceeded to the Cafe Au-Go-Go in Greenwich Village where it was all set up through Joey and Jimi for us to come down and jam. It was a jam audition. Jimi was looking for members to be in his dream band "Gypsy Suns and Rainbows", that he told us about after dinner the first night. Jimi wanted musicians on his level who could hear what he was doing and compliment it without him having to tell them what to do. We jammed three days in a row with Willie on bass and myself on drums. The sessions were in the mid afternoon and lasted until evening. After the sessions, we went across the street to a restaurant to eat with his entourage. I met Floyd Rose (who was inventing special effects pedals for Jimi at the time and invented the first locking guitar system) There were lots of women coming by the table introducing themselves, who were all interested in meeting the star. On another night, Buddy Miles and Billy Cox were there as well as the large group of people who always seemed to be around Jimi. After the evening dinners, we drove in Jimi's limousine and went back to Jimi's hotel to hang out and talk for a while before returning to our hotel. One evening, we went down to the club called The Scene. We saw a relatively unknown band at the time: The band was Sha Na Na! At the end of most evenings, Jimi would go back to one of his places…. he had more than one place to get away from everyone and find some peace and have some space. On the third night, we were at the dinner table and Jimi turned to me and said, 'I want you to play drums.' Jimi's drummer Mitch Mitchell's wife was having a baby back in England. After Willie and I left New York the agency who booked us received a call from Hendrix management wanting me to play Woodstock. Unfortunately, I didn't get the message in time. His drummer Mitch Mitchell, who did play at Woodstock, knew his music much better than I did, so it all worked out ok. It was an incredible experience to be around someone like Jimi. He was so far ahead of his time, a true 'Star child of the universe' and here for such a short time."
"After coming back to Minnesota and leaving the Mystics, Willie and I went to New York again to play with Eric Mercury. He wrote with Bobby Bloom who wrote Montigo Bay on Avco Embassy Records. He was called the "Electric Black Man". He had a very good album out and we had a great band. The guitar player was Elliott Randall, who played with Steely Dan. ("Reeling in the Years"). So with that band, Eric Mercury and Birth Right, we played the Fillmore's on both coasts. I went to L.A. for the first time. Saw the Ocean, the palm trees and fell in love with the West Coast. We toured a while and I returned home. Willy had an offer to join Chaka Khan with a band called Ask Rufus in Chicago. He left and I stayed to join a band called Gypsy. They had original music, and were guys from Minneapolis who lived in LA. I met them in Minneapolis and they already had a drummer but wanted to make a change. They moved back to LA. I played with a guy named Terry Furlong in Los Angeles who was a guitar player in the The Grass Roots. They came to a club to hear me with Terry and decided they wanted me so, I moved in their house in Laurel Canyon, and boom we moved back to Minnesota. I had a ton of material to learn. We had two big concerts in Minneapolis, one with Steppin Wolfe at the Minneapolis Auditorium and [another] later with the Guess Who. The Guess Who's manager, Don Hunter, had picked up our contract. We were on Metro Media, which [also] had Bobby Sherman. That label folded and we got with RCA and got a 2 or 3 album deal. We recorded with Jack Richardson as Producer; the company was called Nimbus Nine. He had done Alice Cooper the Guess Who and now Gypsy. We used Chicago's horn section on the album "Unlock the Gate". We had some success with radio play and I stayed with Gypsy 4 or 5 years [traveling] back and forth from Minnesota to L.A."
"I went back to L.A. and was at Paramount Studio. I had met Bobby Womack who wanted me to play drums with him. I had done some sessions with him and I wanted to pick up some freelance work. While I was waiting for Bobby, Sly and the Family Stone came into studio A. One of the body guards, Bubba Banks, who was Sly's Sister, Rose's, husband, came out of the studio and asked me if I was a drummer, because he had seen me sitting there with drum sticks in my hand when they came in. He asked me if I would like to come in and play on some tracks that Sly was working on at the time. I said that I would…. so I went into the studio with Bubba where I met Sly. Sly told me, 'Go out behind the drums and put on the headphones and see what you can come up with to play on this track.' There were two songs that night, Livin' While I'm Livin and Say You Will, which are both on the Small Talk album which I later recorded with Sly on Epic Records. I played on the songs and when the track came to an end, I looked up and saw that in the control room there was all this commotion. So I got up from the drums and went in to see what was up. That's when Sly turned to me and said, 'You are in the Family Stone.' I got the job, but I didn't know that I was auditioning. Sly did not have a regular, full-time drummer at the time. He needed somebody to do both studio and live shows. The ironic part to this story is that I was in the studio at that time to meet Bobby Womack to see about playing with his band, but Bobby was late getting there. So I guess that there is something to the old saying about being in the right place at the right time. We worked at Paramount for a few hours, and then Sly decided to get us all into his limousine and go to another studio where we worked on tapes until the wee hours of the morning and then we finally all went home. Sly helped me develop my own drumming technique."
"Sly gave me his concept of how to interpret his uncanny sense of rhythm. Sly said to me, 'Lord of the Drums, (which was the nickname that Sly gave me because he never called me Bill Lordan) play sloppy tight and raggedy clean.' Then Sly sat down behind my drums and showed me what he meant. It was kind of a disjointed, loose but tight placement of the beats on the drums. It was how he placed the kick drum and snare that was unlike the way a normal drummer would play it, but made so much sense and was very musical. Then when he got up from the drums, he'd tell me to take what he showed me and put my 'polish' on it. He wanted me to take the concept and add my precision chops into it. I think that Sly would have played it himself, but at that time, he preferred to use my chops. Interestingly enough, did you know that Sly did indeed play the drums and all the instruments on his album There's a Riot Goin On. Sly was most intrigued with a drum beat I came up with that we later titled, 'Stick N' Lick'. We worked on it at the record plant in Sausalito. We just laid down a backing track of it without any words. This 'Stick N' Lick' groove was an inspiration from listening to Jabo Starks, who was the original drummer for James Brown. Just working with Sly Stone was encouraging. Working in a band with this level of world-class musicians helped to inspire and develop my drumming style. Sometimes when we were playing live, I thought that we were the greatest band in the world. Everyone in the band held their own and were exceptionally talented players; there wasn't a weak link in the band. Playing with these great players and working with Sly helped me to develop my own sense of what was unique." "My best Sly memory is when Sly got married on stage at Madison Square Garden in front of 23,000 people. Before our show, they flew in a Baptist Minister from Oakland, CA. to perform the service. After Sly and Kathy were married, we found out [afterwards] that the wedding was not legal because the Minister was not registered in the State of New York. So, Sly had to fly the Minister back to New York, to fill out papers to make the wedding valid. There were many celebrities at the concert and backstage that night. I remember seeing Miles Davis there. He was a big fan of Sly's and loved his music. Halston was also there. He had designed our gold sequined jackets for that night."
"Halston had given me an expensive roll of Mylar [which was used for making jewelry], to wrap my drums so that it would match our outfits and it would look like my drums were made of gold. Sly was always outrageous…. flamboyant and flashy in his dress and in his production. I always liked Sly's use of the colors red, white and black. The story behind that is that Sly wanted to change the colors of the U.S. flag from red, white and blue, to red, white and Black. He had the idea of having the colors of the flag to represent the colors of the people in this country. He had a good message in his music and in his philosophy about all races getting together and living in harmony. While with Sly we were on television programs like Soul Train, Mike Douglas, and Midnight Special."
"After a year and half or so with Sly, he decided to take some time off and I got the information that Studio Instrument Rentals was auditioning drummers for Robin Trower, who had been in Procol Harem and played the Jimi Hendrix style. I got a hold of him at the Hotel Continental Hyatt House on Sunset and talked to him and he said, come on down. I played, got the job and moved to England in 1974. I was with Robin 10 years."
Robin had said this about Bill Lordan: "Bill's a great drummer, y'know. He's got to be one of the best drummers there are. I mean, you can't play with someone like that and not have it change you. I feel a lot better about the whole thing. These are our first gigs we've played with Bill, and y'know, the first night was classic! We went on, he was right for us. He knew he was right for us before we did. He'd been into us from the time the first album came out and he's been trying to get hold of me ever since, 'cause he knew he was The Drummer. He phoned me up and said, 'I'm the guy you want. Don't listen to anybody else.' And he was right. He was absolutely perfect. See, he's been into it right from the first album. Bill, on drums, has added so much, a completely new dimension."
"We had four Gold records, a Platinum and Silver. We had multiple albums and live recordings and did radio shows for the BBC, television shows like Don Kirschners Rock Concert. This was pre MTV there was no video. After Robin Trower (he took some time off) I did some independent work around Los Angeles. I lived with another Drummer, Jack White, from Detroit, who played with Rick Springfield. Then I moved back to Minneapolis and was living in Richfield. I got a call from Robin to go back on tour. Smaller clubs, theatres, as he was making somewhat of a comeback. Also to record demos for his upcoming demos called In the Line of Fire on Atlantic Records. I went to London, did the demo work, went on a small tour of the US and we did that for a few months came back to Minneapolis then through a roady of Trower I met Dave Steffen a guitarist from Wisconsin. He would go to northern California and play a club where I played with Robin called New Georges. I once again, went out to California and hooked up with Dave Steffen. We played winters in California and summers in Wisconsin doing Summerfest in Milwaukee. We recorded 3 CDs of original music. He was a prolific writer and a good guitar player, singer and songwriter."
"During that time I had also made contacts in California for contemporary Christian music. My friend Eric Turner from Florida was a rock musician who had been on Atlantic records, with the band Fortress. We recorded some music with Fortress that didn't get released on Atlantic, which is now being released on Escape records out of the UK. He was involved with Christian music with a guy named Denny Correll who sang in the Blues Image. They had a hit Ride Captain Ride. I got involved with Christian Music with the Darrell Mansfield Band (Darrell plays harmonica and sings) and Denny Correll. Darrell wrote and produced and sang the songs for Maranatha Records, where I did an album called The Vision. Recorded in Orange County at IAM studios in Irvin Calif. Then the church they were involved in, Calvary Chapel, who ran the label sent us on tour. We went to Israel, the Philippines, and Hawaii. We played prisons, high schools and churches. I did that almost 7 years. When the Christian band had run its course, I stayed around California for a while, then returned to Wisconsin for a time and got back with Dave Steffen again. We did one more recording and a little touring. I met a young blues guitar player named Chris Aaron in Wisconsin. He was an up and coming blues player and got involved with his music. His wife Lisa was the singer at the time. We cut a very good second CD in Chicago at CRC called Five Miles to Freedom with a singer Cory Sterling from Canada (from The Kenny Wayne Shepard band). We cut an EP and then a full out CD. We did the Madison Blues Festival to promote the CD and other top jobs in the state."
Eric Turner says: "I remember being a fan of Trower before I knew Bill. The first time I met him was at a club in Topanga Canyon. He was jamming with my friend Mike Pinera of Blues Image fame. When I talked to Bill he was a very cool, friendly person. My thoughts were to put some gigs and recording together so we could play. So I called Bill and Ruste Allen to play on Denny Corrells first album. I was in Fortress then and just coming off Atlantic records and Bill was kind enough to record some songs to try to get another deal. Bill and I also joined the Darrell Mansfield band and did world tours. That led to BLX and the independent CD's. Bill always wanted to write together so these were the ideas we came up with. Bill is a legend and I have been blessed to know him."
"When it ran its course, I decided to go out to California one more time where I lived in the dessert, outside of Palm Springs, which is where I wrote and recorded my 3 solo CDs, The Bill Lordan Experiment. A friend built a studio, we recorded, wrote, produced and got to do things I never did before. I was in the desert for 5 years and won the LA music awards. I was involved in different projects and bands, and did some Christian gigs with Mansfield. When it all dried up, I was in touch with my son JeRay. I returned to Minneapolis and immediately doors started to open that never dreamed possible."
"My new CD, The Best of BLX, is Blues and R & B with my son and Eric Turner on Guitar and Vocals. It is a culmination of works over the last 10 years since Robin Trower and a couple nice surprises of older un released numbers from Sly & Robin."
In 2006 Bill Lordan was the special guest at a local "Jimi Hendrix Tribute". Many fans came out to hear him play. Some even came with old Trower albums and memorabilia from 30 years ago. When Bill was on stage, it seemed nothing else was important. Yes, there were great guitar players up there with him but his presence and professionalism far out-shined anyone and once he played, the drums were the focus. In his waist jacket (Black with real gold threads) he stole the show. This jacket was made by Michael & Toni Designs of Tampa Florida, the same designer who made Jimi Hendrix's beautiful clothing. It was designed with a beautiful flowing gold pattern that has a rhythm fitting for a drummer. There were four numbers in his set and after hearing some loud playing wah-wah pedal driven songs in the previous group, his set opened by bringing the pace down with " Up From The Skies". Playing with only brushes, Bills technique and emotion were strong and appreciated. In the other songs of his set, "Spanish Castle Magic, Little Wing and You Got Me Floatin."At times he hit the drums so hard, his arms and body all over the place, I expected something to explode. I was moved by his performance. His set featured Jim Anton on bass (from Johnny Lang) and Paul Holland on lead guitar (from The Supafuzz and a finalist in Marino De Silva's Worldwide Blues Idol Contest) and Bill. Other sets included such artists as, Kip Blackshire (Prince, New Power Generation), Jelly Bean Johnson (The Time), and many other well-known local musicians.
On his website the following day was this comment from a fan: "Hi Bill, caught your show tonight at the Cabooze, all I can say is…DAMN!!! Man, you really know how to 'play' a room. You got those Slingerlands sounding nice, the way they were designed to sound."
The Best of The Bill Lordan Experiment not only features his son but also includes eight different vocalists, a Spanish song, blues, rock, two beautiful ballads, a drum solo, a live Sly number from Soul Train and a live Robin Trower song. It's got everything. Bill continues to write and play his drums like no one else can. It is truly just the beginning of his lifelong experiment.