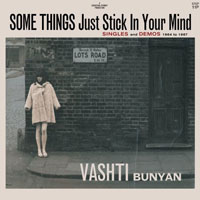 Ready for a blast from the past? Enigmatic British singer/songwriter Vashti Bunyan has released a double CD from her archives. Titled after Vashti's Mic Jagger/Keith Richards written debut single, Some Things Just Stick in Your Mind — Singles and Demos 1964-1967, this double album promises a mellow look at a time gone by.
Some Things Just Stick in Your Mind is a complete collection of Vashti's early recordings, many rescued from old acetates and quarter inch tapes Vashti's brother found in an attic a few years back.
This double disc is filled with themes of independence and freedom to move and grow, "that love is changeable, that you cannot pin anything down in this world, and if your try it mostly won't work". The songs are short, sweet and never linger.
Billed as a folk singer, Vashti always fancied herself as more in the pop genre, however "fragile and unique". Originally discovered by Rolling Stones manager Andrew Loog Oldman, Vashti has been through a four decade long industry roller coaster leading to this album
As Vashti explains in the notes on the album, "I wanted to bring simple acoustic music to mainstream pop".
Review By: Gary Jacobs