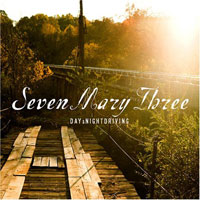 The consistent touring with the top draws in the industry, and the release of their seventh album,, has established Seven Mary Three as a rock mainstay. Led by singer and main songwriter Jason Ross, the group successfully takes personal lyrics and blends them with catchy melodies.
Most of the disc has a ballad format going on. The lead in song "Last Kiss" is the lead in rocker. The song is also the single release accompanied by a video. "Laughing Out Loud" pretty much sets the balladic tone for the rest of the tracks. "Dreaming Against Me" and "Upside Down" have an added country feel. At times the disc is reminiscent of a romantic movie soundtrack.
If you're an 7M3 fan, you'll be pleased. If you're not familiar with the band, and tired of head banging stuff, you're head will like the break!  
By RME