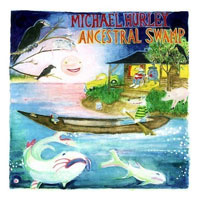 Ever wondered where the music you love came from? Ancestral Swamp by Michael Hurley is his 20th full length release. From "El Dorado", to sleepy winners like "New River Blues" and "Gamblin Charlie", Ancestral Swamp is a venture into those folk music roots that many musicians today are looking to for inspiration.
Ancestral Swamp is the Gnomonsong label debut for Hurley, and it "bubbles with laid back ease and melodic goodness". Most of the songs have the simplest of arrangements: Hurley singing solo, accompanied by his guitar, Wurlizer organ, and fiddle. Hurley brings in Tara Jane O'Neil, as well as past accomplices Dave Reisch and Louie Longmeyer to round out the sound.
Hurley's first full length release came out back in 1965. After "spending a decade as a hobo", Hurley began 15 years of fruitful collaborations including his 1976 album 'Have Moicy' which was named "the greatest folk album of the rock era" by Robert Christgau of The Village Voice in New York City. Now Hurley has now found a nice home on the Gnomonsong label and appears poised to release records for years to come. Look for more folk music from this dedicated man.
By  Gary Jacobs