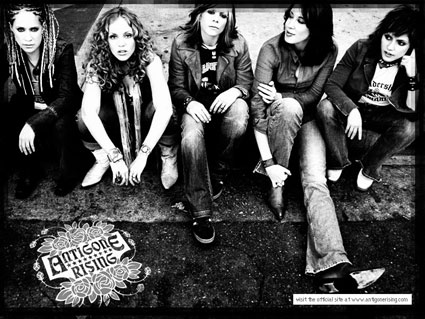 By Diana Olson
Antigone Rising is an all-women rock band with members from New Jersey and Long Island, New York. This group is known for their grass roots indie ethic music and their energetic live shows. Their music is influenced by classic rock from the 1970s such as Led Zeppelin, mixed with pop overtones and at times folk and country elements. They originally formed at Bucknell University in the late 1980s, with sisters Cathy (guitar) and Kristen Henderson (drums) as the primary force, and Penelope "Peppy" Kokines taking lead vocals. Later members would include Sue Obolsky (lead vocals), Agona Hardison (lead vocals), Terri Avella (bass) and Ann-Marie Stehn (bass).
In the mid-1990s in New York City, the Henderson sisters re-grouped and started playing gigs with lead vocalist Cassidy, a self-taught singer who has been compared to Janis Joplin, Jen Zielenbach on bass and Dena Tauriello on drums. They are the current lineup of Antigone Rising, which now reportedly performs 200 or more shows per year. They have a large fanbase who refer to themselves as ARheads (pronounced airheads) or Risers, and to the band simply as AR or Antigone.   When I asked them where they came up with their name they said, "the name comes from the Sophoclean play, Antigone.   She is considered the first female rebel in history.   Antigone is based on a legend about a woman who defied the king for what she believed in.   She is not based on a mystical character so she is based on a legend about a woman who defied the King for what she believed in.   She is not based on a mythical character.   So she is believed to have really lived.
Their first four albums were recorded mostly with independent labels and financed through fan donations. In 2003 they signed up with Lava Records after label president Jason Flom spotted them playing at one of their gigs. In 2005, they became the first artists to be promoted in Starbucks' Hear Music Series, created to discover and spotlight new music. The high visibility, exclusive sale, in-store promotion and airplay at Starbucks across the country helped the band's acoustic EP From the Ground Up soar to over 450,000 records sold by the end of 2005.   In the winter of 2007, Antigone Rising moved to Nashville, TN and began recording "Tales From Wonderland . "Tales" is a natural progression of the band's signature sound; 70's songwriting sensibility mixed with 3 part harmonies and southern rock guitars. "We were much less methodical to our approach on these recordings. We did a song a day every day until the album was done. Some days were longer than others, but nothing took more than one day to complete." Adds rhythm guitarist Kristen Henderson, "it's the best studio album we've ever made. I've never heard a studio recording of us that I liked better than our live recordings.  
Antigone Rising has returned to what they've been known for all along; Great live shows and relentless tour schedules. "2008 promises to be full of traveling from city to city," says lead guitarist Cathy Henderson. Hot off the success of a 2 night stand in Teaneck, NJ at Mexicali Blues, Antigone Rising took the control back and came up with a mastermind plan that will enable them to tour and bring their music directly to their fans. "We've started a series called InstAntigone Live where we record the show and immediately afterward sell a CD of the performance to the fans" adds Cathy. While it's not a new idea by any stretch, many touring bands have partnered with companies like Instant Live to handle live recording and sales of their shows. Unlike other artists, Antigone Rising is doing it all themselves. "We've invested in the equipment and are doing it all on our own, so finally the only people taking a cut of our record sales is us!"   Says the band, "we still love recording CD's in the studio as well, but the ability to sell our live shows is so much more intimate.   We get to really share an experience with the fans, especially the ones at that particular show and everyone else who buys the CD's after the show, the get to see and hear the warts and all!"
Be sure to visit Antigone Rising's website www.antigonerising.com where you can download an evening's performance the following day or purchase a CD of any of the live shows in the band's online merchandise store. And keep a close eye on the band's tour schedule where you can now leave the show with that night's performance in hand.
I asked the group who their inspirations were?
We have many inspirations from the Beatles and Stones to Pearl Jam, Patty Griffin and Shawn Colvin.   Too Many to name. But, our biggest inspirations right now are the artists who are doing it for themselves and trail blazing like Moe and Ani, artists like that.
Who do they compare themselves to?
Can't even touch this one, but we do draw great inspiration from bands of the 70's. That's rawness.
What do they want to be doing 5 years from now?
Touring the country selling our shows and having a great time.
What do they want people to get from their music?
Hopefully, the honest truth.   We hope that's what we convey in our music.   We're not trying to change the world, but we trying to keep what we do as real as possible.