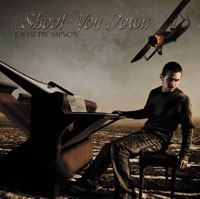 Newcomer Chase Thompson proves his talent as a producer, pianist, singer, and songwriter on his debut EP release Shoot You Down. The brief album is comprised of five heartfelt and confessional tracks demonstrating Thompson's command of both verse and vocal range.
Although his sweet melodies and emotional oozing may turn off some listeners with its maudlin character, others will be won over by the honesty and intimacy of his words and his silky-smooth voice. The production is full and lush, wrapping the sounds in a soothing vibe. The delicate piano melodies are a delightful addition to the rich sound.
The opener "Hollow/We are Lifted" is arguably the strongest on the album, with its compelling piano melodies and Thompson's beautiful voice stretching to falsetto in staccato highlights. A perfect pitch that massages the ears, the vibe continues throughout each down-tempo ballad. His writing prowess comes out on "Blue Lillies" with its vivid lyrics and symbolism. Mostly successful at staying clear of cliché, at times he does seem to fall victim; this and the overly sentimental orientation of the songs can seem a bit contrived. And this approach might bore the listener after extended play.
It would do him credit to change the tempo and bring out some more variety in his music. Yet we can't fault him for producing a thoroughly consistent effort. Shoot You Down shows that Thompson certainly has the chops to be a musician. The true test will be realized when he is able to diversify his abundant talent into more than soft, easy listening suitable for the narrow confines of contemporary, adult radio.
By  Shaun Flagg
[Rating:3.5/5]