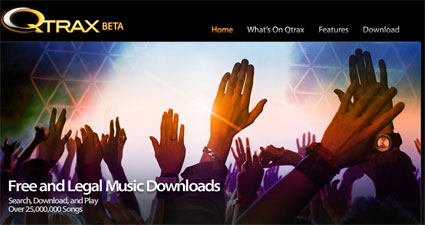 By Michael H Friedman
I am beyond excitement right now. Last night a new download service was unleashed at www.qtrax.com. Qtrax is the world's first free and legal peer-to-peer (P2P) digital music site.
Music lovers can discover new music and legally download full-length, high-quality versions of their favorite songs while compensating both the artists and the record labels through non-intrusive and relevant advertising. Qtrax has the unparalleled support of the major record labels and all of their respective publishing divisions. Qtrax and its components are developed by LTDnetwork Inc. a division of Brilliant Technologies Corporation.
As I sit here and think, the questions are popping like crazy! My first question is about how artists will make money? I assume that the more the artists are downloaded the more $$ an artist will make. I am also curious as to where the ADS will come in? I am assuming it will be played before the actual song. I am also curious how music enthusiasts will react to ADS in their music? Can we download full albums as well?
Is this the end of the .99$ per song? As we know in human nature, if people can get something for free, they will.
QTrax is another attempt to fix the bleeding going on in the music biz. I am as excited as anyone to see how they do!