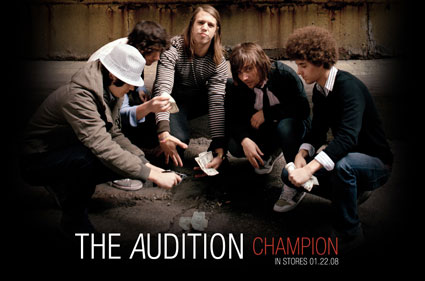 Champion by The Audition was just released, January 22, 2008.   The Audition were this weeks Myspace music featured artists.   They have a fresh unique sound.  
The following is from their biography:   "It is bold and confident". The record title is a reflection of a band meeting their personal high expectations. The writing process for a second album can be difficult for any band hoping to maintain the magic from their first release. On their second offering for Victory Records, The Audition have avoided the sophomore jinx and produced an irresistible album that is part fighter, part lover, and all Champion. This Chicago quintet has garnered many definitions of what their sound is: pop, punk, dance, rock — take your pick. Truth is, they've earned every one of them, blending smart pop lyrics and grooves with memorable guitar licks and addictive beats. So when deciding how to follow up their 2005 debut Controversy Loves Company, the strategy was simple: stay true to the band's core rock sound but turn up the heat with ultra catchy melodies and lyrics that reflect the group's maturation.   With a throng of pop-punk peers on the scene, "Champion" is the record that will separate The Audition from the cookie-cutter acts springing up around every corner. This sophomore outing finds The Audition bringing back the same danceable rhythms and sing-along choruses, but with a more adult and sensual feel. This new bout of maturity can be attributed to the time that has lapsed between albums.
The band recorded Controversy Loves Company at the median age of 19, and it's apparent with Champion that the band's songwriting and delivery have ripened with a confessional and intimate sheen. Tracks such as "Warm Me Up" are loaded with insinuations and sultry secrets that reflect their growth in their artistic and personal lives. "A lot of the songs have a much more soulful and sexual vibe to them. On this record we wanted to try and take the things that make us The Audition and make them better," says drummer Ryan O'Connor. "We made the rock parts harder, the dance parts 'dancier' and the hooks catchier." In order to maintain their clean sound and precise execution, The Audition returned to the studio in August with Controversy Loves Company producer John Naclerio (My Chemical Romance, Senses Fail, Brand New). The band trusted Naclerio with their ideas and goals for Champion and found the enthusiasm and vision was reciprocated.
Fashioned in 2003 in the Windy City suburbs, The Audition went through a myriad of hurdles before its current lineup was complete. O'Connor and bassist Joe Lussa recruited guitarist Seth Johnson to join their original lineup. Local shows with bands Fall Out Boy, June, Spitalfield, and The Academy Is… propelled the band to minor fame, and soon Victory Records took notice of the hometown favorites. Within weeks of witnessing the band showcase in O'Connor's parent's basement, the band was signed. However, only a mere month passed before the band lost its lead singer. Motor City native Danny Stevens stepped in after connecting with O'Connor over the phone. After the recording was complete, the band added guitarist Tim Klepek to recreate the numerous guitar parts live. The Audition enjoyed a wave of success with Controversy Loves Company, which has reached nearly 50,000 copies sold and climbing with the band's relentless touring with bands as diverse as Jack's Mannequin, New Found Glory, Boys Like Girls, the Red
Jumpsuit Apparatus and 30 Seconds To Mars. The handful of genres the band has been likened to has propelled them to tours that reach all different scenes. "So many people want to lump us into the "emo" category but we are just a rock band. We have so many ideas, and like so many artists out of our scene, we don't like being labeled under one type of sound," O'Connor says. "We want anyone and everyone to like our music. We don't want to be a flash in the pan; we plan on being around for a while."
Champion is the quintessential pop-rock album of 2008, jammed with radio-ready singles and party-soundtrack songs that will appeal to fans above and below the 20-year mark. This stellar follow up to Controversy Loves Company showcases a band that has brought the quality of their sound up to the high level of their confidence— all it took was a little growing up.   "We named the record Champion because it's a statement," O'Connor says. "It tells everyone in one word what we think our record is."
You can check out their music on their website at   www.theauditionrocks.com.
By Diana Olson & Shelby Hoffman