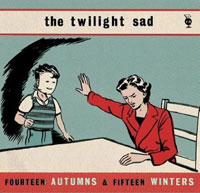 Adolesence, as a subject for music, is about as well-mined a vein as there is. It's not merely because teens are the music industry's bread and butter — teenage years are simply the most vividly emotional time of a lot of people's lives, especially to those who happen to write songs.
So when one decides to write an entire album of songs about the difficulties of being a 14-year-old, one must bring something more to the table, lest that one get lost in a sea of weepy mope-fests.
Fortunately, James Graham isn't lost. Graham's warm burr and strong lyrics find their way to willing ears on the Scottish quartet The Twilight Sad's debut. It helps that the musicianship — led by guitarist Andy MacFarlane's predilection for white noise — draws you in, but still makes you work to hear Graham.
The single "That Summer At Home I Had Become The Invisible Boy" is the example many use to show the effect of The Twilight Sad's power, but I think Graham's lyrics vs. the band's muscular sound is best shown in the album's fifth track, "Talking With Fireworks/Here, It Never Snowed", where the music comes off like an onrushing train as Graham sings sweetly behind it.
By Jonathan Tully
Listen to "Talking With Fireworks/Here, It Never Snowed"
[audio:Talking With Fireworks_Here It Never Snowed.mp3]