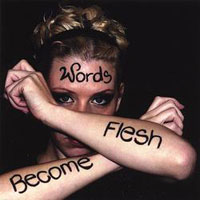 The first track of Jessica Penrose's LP Words Become Flesh is actually quite attractive. In fact so attractive that a listener feels like they've heard it somewhere before in a hit single, and then it all makes sense, they have. What's more is that almost word for word, each raspy vocal and guitar chord sounds like the toned down hook of the Alanis Morisette single "I'm A Bitch." While the sad, dark and dreary has sold many a record–see Fiona Apple–it gets old without variation. Sure slowing the tempo and a softer voice could fool a few virgin ears but avid listeners will find themselves insulted after Penrose's album open "I am".
The album picks up the pace from the depressing and overdone to a mid tempo folk like alternative track "Free Blind" however, it is short-lived and the LP returns to its original state of boredom and disappointment.
The tracks on Jessica Penrose's sophomore project Words Become Flesh are uniform in composition and style. Each track shares the same tone, vocal structure and themes made popular by pioneering female alternative artists. Individuality and mere creativity were absent from Penrose's second album and unfortunately for Penrose her established fans will soon become far and between.
By Kendra Desrosiers