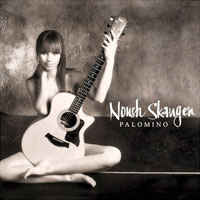 With a name like Noush Skaugen (pronounced Noosh Ska-ghen) you may be forgiven for thinking this EP is an offering from another Swedish electronica group. But no, Skaugen is a London transplant who delivers a curious blend of Chryssie Hynde and Natalie Merchant. Skaugen's press release mentions a comparison to Stevie Nicks (and, bizarrely, Mick Jagger) but, aside from a slightly nasal delivery, there's little like Nicks' work here.
The opening track, "Gone," is a vamping number that at first sounds the most like a Fleetwood Mac outtake, but it soon moves into Pretenders territory with a trashing crescendo. "Skid" appears to be Skaugen's break out hit since it's included twice on the album (the last track is a live version of the song). The studio version is a little more worthwhile, as the song doesn't translate particularly well when stripped down to just an acoustic guitar. One of Skaugen's better performances comes in "5 Weeks Away;" Her vocal affectations on "Beautiful Lies" distract a little more than one would like.
Also included with the Palomino EP is a short DVD featuring a live video performance of (you guessed it) "Skid," an audio introduction from the singer, and a photo gallery featuring an entire series from the EP's cover shoot. In only five tracks, Noush Skaugen delivers an alternative folk rock sound that handles itself as coyly as her body coiled around her guitar. The EP leaves listeners wanting to hear what else she can come up with for a full length.
By  Len Sousa