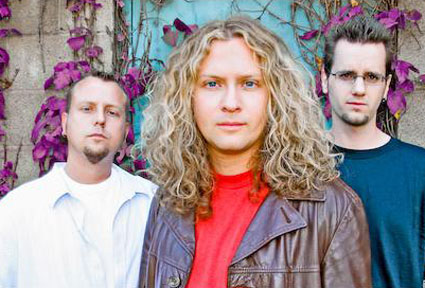 The Limit is a Rock Trio that includes Mark Daniel on vocals and guitar, Bob Chmiel on drums and Todd Grosberg on bass.   Daniel says his hometown of New Haven, Conn. was the source of inspiration for the band.   He met his band members in high school but it wasn't until his return from college that he met up with them again and started The Limit.   They struggled along but managed to do some gigs including New York's hotspot CBGB and Omfug, before they closed down.
Daniel says, "Our influences come from diverse places and we seem to (especially lately) add a lot to the list.   Our hearts are in Rock and Rock is our template for which we can venture to many places (blues, jazz, funk). Our long-standing influences include: Rush, Led Zeppelin, Prince, The Police, Van Halen and Freddie King.   Our loved ones influenced us as well.   For me, it was my grandmother.   She bought me my first guitar and believed in me.   That kind of love gets me up early and ready to play".
"The growth of the band in the past 2 years has been intense. Both commercially and artistically so the future looks to be a very interesting place. Our goals, and mine personally are to continue to reach a large number of listeners through our work artistically and commercially.   I need to/have a unstoppable burning desire to share my love of music with the world: here in the USA and abroad, Europe, Japan, etc… I am proud to say its happening."     The Limit is planning its USA street date for Tuesday, February 26, 2008 and European and Asian street dates of March 11th — 26th 2008.   Their CD "Reinventing the Sun" will be released nationwide in early 2008 as well as in Europe and Asia.   You can check out the music from the video at www.thelimitmusic.com.  
I was very impressed by the music on their site even though other writers have said; "you have to experience them live to get the full force of the group."   It isn't an easy thing for a trio to put out the power with the precision that The Limit does.   The sounds are clear and methodical.   Very impressive.   Daniel has a wonderful voice that I think could be just as effective in a blues ballad as it is on the rock songs.  
I asked Daniel what he would like listeners to get from his music and he said, "If can make them feel the passion for music and life that I feel when listening and playing, then I have reached my ultimate goal; to change their lives even if for the time it takes to listen to a song, CD, concert or perhaps every time they hear the song or melody in their heads and hearts. To improve the quality of life through art and music is my purpose here."
By Diana Olson