The New Congress Ain't Got Nothing To Do With Politics
By Diana Olson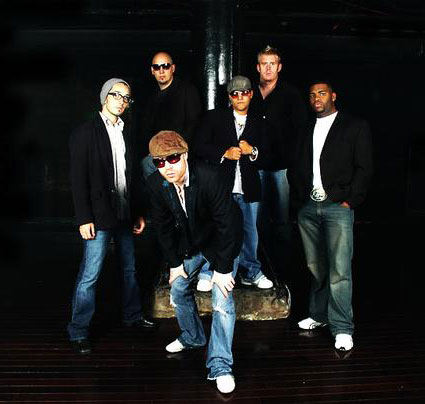 The New Congress. It's no mistake that this band shares in the rich Minnesota sound with its roots of coming up with Prince and other Prince band members. The band mixes turntables with old-school R&B and classifies their music as a blend of jazz, hip-hop, pop and rock.
The first choice for a band name was just The Congress but "one day we were all hanging out and someone overheard us talking and said are you talking about the Congress? We need a new one thus, The New Congress", says the band.
TNC was formed in 2005 and has performed with the likes of Faith Evans, Mint Condition, Jon B. and have headlined several major national clubs and events. Morris Hayes, (New Power Generation), produced a pair of tracks on their debut CD, "Everybody Gets Up," released in 2006, and the album is receiving international recognition and airplay.
TNC earned "R&B/Soul Song of the Year" and "Neosoul Band of the Year" in 2006 for the 16th Annual Los Angeles Music Awards and performed at the red-carpet event at the Music Box Theater in Hollywood, CA. This past year they also received the Minnesota Music Award for "Everybody Gets Up" and were voted as Best R & B Artist by the local paper City Pages. Their sophomore album is due to be released in early 2008. They say they are "contributing to bringing the world back to real music by real musicians". I asked them what they meant by this and they said, "We write and play from our hearts. That's as real as it can get. Music today is just band in a box track shows. Not all music, but the majority of it on pop radio these days."
The New Congress members are:
AARON "ORANGE" COSGROVE (Vocals / Guitar / Songwriter)
RUSS KING (Keyboards / Background Vocals)
DJ DUDLEY D (Turntables / Background Vocals)
MANNY FRESH (Congas / Percussion / Bass)
ANDY MARK (Bass / Background Vocals)
BARRY ALEXANDER (Drums)
On their myspace www.myspace.com/thenewcongress you can listen to some of the clips from the Everybody Gets Up CD. "Only Human" is jazzy and smooth. Easy listening with crisp cool distinctive power. I listened to it just at the right time, when I was feeling a little down. On "Cant Be Me" again that jazzy sexy smoothness with rap included in a very special way. "Ain't About You" has a sweet keyboard with upbeat backgrounds. I love the harmony on this one. This one is my favorite. I am truly excited about this group. Their sound is wonderful and it makes you feel good.
I asked them some questions:
For songwriters….where did you get your inspiration?
ANS: From agony, love and romance
Who do you fashion yourselves after and who were your influences?
ANS: The Beatles, James Brown, Prince, Nirvana, N.W.A., Lauryn Hill..the list goes on.
What do you want to be doing in 5 years?
ANS: Still making music and hopefully living in a warmer climate.
What do you want people to get out of your music?
ANS: Everyone receives something different individually from the gift of music. If somehow we can make their life a little brighter such as helping someone through a difficult time or celebrate a great moment in life, then we have done our small part. We hope that our music can lift the weight off heavy hearts.