QUIETDRIVE IS A BAND ON THE BRINK
By Diana Olson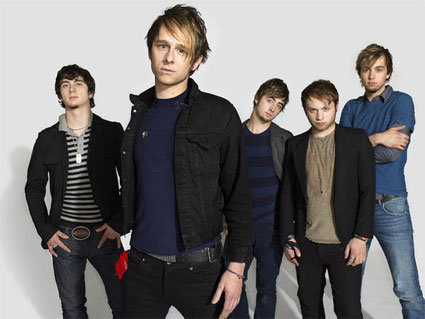 Quietdrive is a pop punk band from Minneapolis, Minnesota. They released their debut album When All That's Left Is You in 2006.
Quietdrive members Justin Bonhiver and Droo Hastings were best friends growing up together. In 9th grade, Brandon Lanier started telling Hastings that he was a great drummer, and that they should start a band with him. At the time, Droo Hastings was the lead singer of the trio, and Brandon was the bass player. The band started to audition for a lead singer, so they posted an ad on MP3.com. Kevin Truckenmiller posted his solo work, including an early incarnation of the song Both Ways. They later got Kevin to audition for them.
When All That's Left Is You was produced, engineered and mixed by Matt Kirkwold and James Harley of World Record Productions with additional mixing by Chris Lord-Alge and Mark Endert. Its first single was "Rise from the Ashes" and was featured on EA's NHL 2007 soundtrack. Matt Kirby has been quoted in saying that the band wants to explore different sounds in their album, including the harder rock sounds from their past.
Their cover of the Cyndi Lauper song "Time After Time" (which is more upbeat than the original) has been used in promotions for the WNBA for its "Have You Seen Her?" campaign. It has become a minor hit on pop radio, hitting #33 on the syndicated American Top 40 countdown show. It was also featured on the soundtrack of the 2006 feature film, John Tucker Must Die. Quietdrive went back into the studio with Matt Kirkwold and James Harley of World Record Productions to work up a new track. They released the new single entitled "Pretend" on their AbsolutePunk.net page in early 2007 for fans to stream.
In the month of January 2007, Quietdrive was featured as the "Artist of the Month" on Xbox Live. On Buzznet.com, January 2008, they were quoted on the front page as saying they have now recorded a song with a country vibe to it as well as a disco dance song and a ballad.
I asked Droo the following:
When do you expect the new cd to come out? Can you tell me anything about it?
We're hoping to release the new record by the middle of 2008. It's far too early to set a solid release date but we're looking at this summer as an ideal time.
Where did the name Quietdrive come from?
In all honesty we chose the name Quietdrive because we liked how it sounded. Some of us were still in high school at the time. We've grown into the name, though, and it's become a mantra of sorts. The word quiet representing the subtle way that emotion can manifest itself in a melody. Drive meaning our will to press forward in any and all circumstance. When written the name is two separate words fused together, bridging the gap between the two ideas. Quietdrive.
What do you want listeners to get out of your music?
When people listen to our music we want it to stir something in their soul. Human beings are emotional creatures and music is the unseen force that has the power to commandeer and direct those emotions. A sad song can make you cry when you're happy. A happy song can make you smile on a bad day. We just want to take part in allowing people the opportunity to feel those things. The more people that can take something good away from what we do the better. We want people to live their lives in our music. Kind of like a great pair of jeans.
Any Upcoming gigs?
We're taking significant time off from tour to restore some sanity and make the new record. We will be spending countless hours in the studio (that's actually where I am right now haha). That doesn't mean, however, that we won't be keeping everyone up to date via myspace and our website…
Any comments about yourselves to add?
Keep your ear to the ground in Quietdrive land. Like I said, we're going to be posting tons of content on www.myspace.com/quietdrive and quietdrivemusic.com, not to mention other internet outlets. You can get your fill of Quietdrive in the studio through the first part of the year. Meanwhile, keep putting your spare change in that piggybank for when our new record drops this summer!