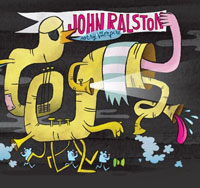 John Ralston arrived in 2005 with Needle Bed, which seemed to have a strong Wilco influence and plenty of decent moments. In the two years since he first recorded it, Ralston has clearly grown as a songwriter – the new album, Sorry Vampire, has a richness to it that was barely hinted at on Needle Bed.
The Wilco influence is still in place, but Ralston and fellow producer Michael Seaman have added a lot to it with multi-tracked vocals and power-pop instrumentation. As a result, Sorry Vampire might musically find a happy home alongside such artists as Brendan Benson and Jason Falkner.
Lyrically, it can be good deal more downcast, which makes for counterpoint at times between music and words. Bright melodies or complex production draws the listener into the occasionally difficult romantic lives of Ralston's subjects – "I was just a bandage when you lost your tourniquet" is part of the chorus of "When I Was a Bandage".
But with the quantum leap forward Ralston's made musically, the foray is a trip worth taking.
By  Jonathan Tully