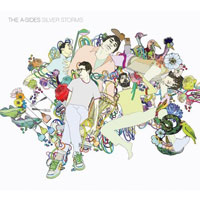 I can't ever really fault a musical act for trying to stretch its musical boundaries, but there are times when reach exceeds grasp. Back in 2005, Philadelphia's the A-Sides put out a bouncy pop-punk record, Hello Hello, and when they were signed to the strong indie label Vagrant, hopes were high for what they'd put out next.
So when a swell of strings opens the first track on the new album, Silver Storms, you may well be scratching your head. "Always in Trouble" switches directions a few times, and it's on the off-putting side.
The A-Sides retain their fun-loving pop style on a lot of songs, however, as the next track "We're The Trees" shows. There's a lot to like on Silver Storms – the band has a knack for good vocal harmonies and lead singer Jon Barthmus' voice fits nicely in this multilayered mix.
But the A-Sides venture into … 'And You Will Know Us By The Trail Of Dead' territory with spotty results (they shouldn't feel too bad about this – Trail Of Dead falls on its faces sometimes with its grandiose style too). By leaving the pomp and bombast to bands like Angels & Airwaves and playing to their strengths, the A-Sides could really be onto something.
By Jonathan Tully