STOLI ADDS SOME SPICE AS HE CHATS WITH JEN KEARNEY & THE LOST ONIONS
By: Stoli Razz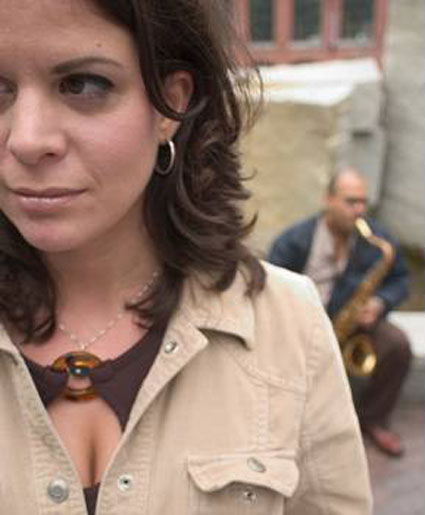 On January 31st, Skope Live! & Autism Speaks returns to Felt in Boston. Jen Kearney will be performing a solo live set. Skope Live! is so excited to have her perform we sent Stoli to see what was going on with her today!
Stoli: You are based in Lowell, how do you feel about the music scene in the Boston Metro area?
Jen: I was born in Boston so I have that hometown affinity for playing around here. Alot of people come from all over the world to attend the music colleges, so there's no shortage of talented musicians in town. The scene is pretty diverse and vibrant.
Stoli: You play with alot of bands & musicians, do you feel that makes you better as a musician?
Jen: Absolutely. I'm always learning something from somebody!
Stoli: How did you come up with the name, Jen Kearney & The Lost Onion?
Jen: An onion has soul and alot of layers, so we felt having it in the name represented our style of music well. All cultures have their own version of soul food and most recipes begin with sautéing and onion in oil. That was the thought process behind the "Onion" part. As far as the "Lost" part.
The story is legend and only high ranking officials, certain archaeologists and possibly Harrison Ford know the secrets of the Lost Onion. We'll give you a taste of it if you come to a show though!
Stoli: What is the most inspiring life experience that helps motivate you to create music?
Jen: I think inspiration and experience are ongoing. I just try to observe everything around me and write about things from my perspective.
Stoli: You have a unique sound mixing Latin & Soul. Was that natural or did you set out to create that sound?
Jen: Thank you. I think it was pretty natural. I listen to all kinds of music but was always into soul music even as a young kid and would spend alot of time listening to my mom's soul records from the 60s and 70s. I just felt it.
Latin music is the same way. I just get mesmorized by the Afro-Cuban rhythms. I worked at this bakery a long time ago and had to be up at 3am to get to work. I found a radio station that played salsa and would blare it whenever I had to open the bakery and dance around making muffins and cakes and stuff. I listen to alot of different genres of music. I think whatever a person listens to is going to come out in their songwriting and style sooner or later, so the shorter answer is: yes, it was natural. HA!
Stoli: Have experiences with past lovers helped you to write music?
Jen: Oh yes!
Stoli: Are you excited about the January 10th show at Harpers in Allston, MA? How do you get psyched to play live?
Jen: I'm really excited for this show! Its pretty easy for me to get psyched. I'm just naturally psyched to perform. It's what I love to do!
Stoli: What has been the most touching experience with a fan since you started making music?
Jen: Well, I'm thankful for all the kind words that come our way. I'd say the most touching experience just happened recently. I was told by a woman that listening to our album got her through caring for her father in the last few weeks of his life. That was very heavy and beyond flattering. Its kind of a speechless moment when someone tells you something like that.
Stoli: When you are not playing music what else do you enjoy doing?
Jen: I'm very into cooking and having friends over for dinner to spend time with them. I read. I'm a movie geek and if I really like a movie, I'll watch it several times. I paint a little just for fun with oil pastels. I do sporty things. Regular human fun stuff!
Stoli: When you were starting out what was the toughest thing to overcome to get people to recognize you?
Jen: My own lack of patience.
Stoli: What can we look forward to from you in 2008?
Jen: I'm writing a bunch of new songs and we're hoping to get back in the studio to record them and release a new CD this year. That's the goal as well as playing alot of great festivals and gigs!
www.jenkearney.com
www.myspace.com/jenkearneythelostonion
www.sonicbids.com/JenKearneyTheLostOnion