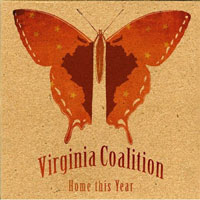 The three-piece (core member) band, Virginia Coalition, from Alexandria, Virginia is unique in the fact that all three members can play just about every instrument they collectively use. Not to be confused with the political movement bearing the same name, the material is real-life based and not confrontational. The group used collaborative players for the first time on this CD, which is their fifth release.
This is an easy to listen to offering. Throughout the disc, it's easy to draw some comparison of the qualities that have worked for John Mayer, Fleetwood Mac, Loggins & Messina, and Bruce Hornsby. The title song is a catchy song about major reasons to come back home from the road. Piano led songs like "Same Page" and "I Got This One" have a good combination of writing and overall presence. Songs like "Lately" and "Look My Way" are ideal TV show or movie intro or backdrop songs.
You may have already caught them at a venue. The band has toured extensively supporting a lot of the big names in the industry like The Dave Mathews Band. Different songs with different vibes make up this release. From song one through song 10, it's laid back and easy to follow!  
By RME