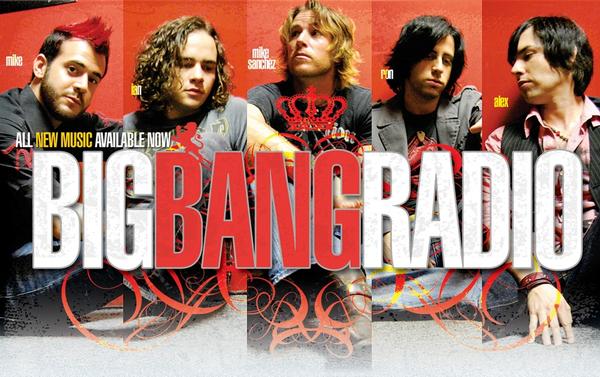 Big Bang Radio has just released their new album, To Mars From Babylon. These guys are from South Florida and after you give them one listen you know it's special. With no major label support they are doing just fine without. We sent Stoli to see what the next move is for a true up & coming band!
BBR is Mike B, Ron, Mike S, & Alex, & Ian
Stoli: How did you come up with the name Big Bang Radio?
BBR: Big Bang Radio was a name that was created one day after a long discussion about band names. We knew we wanted to have a name that exemplified a big sound, riff rock, powerful vocals, etc. Ron was flipping through a National Geographic magazine and stumbled upon an article about the Big Bang Theory. The words Big Bang stood out and we tagged on Radio. We also liked the way BBR sounded. That was about it.
Stoli: How did you all 5 come together and set up the band?
BBR: Ron (keys) moved down from NY in 2004 to work with Alex (guitar). Mike (bass) moved down from NY in 2006 to join the band and Ian (drums) came into the picture shortly after. The final missing element was Mike S. (vocals) joining the band this year. Mike S. and Alex have also played together years prior, so the experience and chemistry between everyone was there before it began. It's a great situation because 3 members are brothers and cousins, being Ron, Alex and Mike, and Ian and Mike S. might as well be considered blood as well as everyone in the band are great friends.
Stoli: What is one of the toughest parts of getting national recognition that you feel is well deserved?
BBR: The toughest part of getting national recognition is probably due to attaining mainstream airplay. Without a record deal or distribution deal, it seems like alot of Clear Channel based radio stations won't play your music. WIth that said, this is a great time for the independent or unsigned artists. WIth the Internet and digital world taking over, (you tube, myspace etc.) you can attain national recognition through these means. We would love to have an opportunity to have label backing, but until that becomes a reality, we are going to conitnue to take advantage of these means.
Stoli: You have played with many national acts. Would you say that you watch & learn from them?
BBR: A lot of times you learn what to do and not to do. The toughest thing about opening up for a huge act is that the majority of people are there to see them and not you, so its a challenge to win them over. We absolutely LOVE getting the opportunity to spread our music to people that have not heard of us. When you can win a crowd over, its the best feeling in the world. on December 18th, we will be opening for Chris Daughtry and we are very excited to have the opportunity to show his fans who we are and what we are about. It is also hopefully great prep work for us, because of course we are aspiring to one day play to 20,000 of our fans.
Stoli: What was the best part of creating your new album 'To Mars, From Babylon'?
BBR: Working with Bob Rosa hands down. He is such an AMAZING individual, let along a musical genius. He's up there with George Martin in our book.
Stoli: Would you say that because you are not signed to a major you have more creative control over your sound?
BBR: We definitely have more creative control of our sound. We answer to ourselves right now. However, a good record deal is having the backing of a label that believes 100% in what we do, and the sound we create.
Stoli: What inspires you most to write songs?
BBR: Life experience for sure. We take our experiences in life and write about them.
Stoli: If you could choose 1 song that gives listeners a taste of what Big Bang Radio is all about what song would that be?
That's a tough question because as a band we try to create colors. The bands and artists we look up to are bands like Led Zeppelin, U2, and many many others. These bands had longevity and their music will ALWAYS live on. They werent confined to one specific thing. They were albe to create colors with their music while keeping the integrity of who they are with each tune, which is what we try to do. I guess if we had to decide, a song like Sanity would probably be our pick because of its overall message.
Stoli: Have your friends & family been supportive of your musical endeavours?
BBR:Absolutely. Its always great to have a foundation of support from friends and family. It makes the overall experience that much better.
Stoli: Why do you think that Skope Magazine has caught on so well with music enthusiasts worldwide?
BBR: Because you guys are hip and ahead of the game. You know whats going on before it happens. Wisdom. The magazine is awesome and to even be considered a part of it is an honor for us. Thanks for the opportunity.
StolI: Have you ever got laid just becuase you are a musician in a band?
BBRL: Umm…..plead the 5th :)
Some people in the band would say yes, and some would say no.
Stoli: What can we look forward to from Big Bang Radio in the next 6 months?
BBR: We set high goals and try to attain them. We would love to have the opportunity to show the world who we are and what we are about. We believe 2008 is going to be a great year for us.