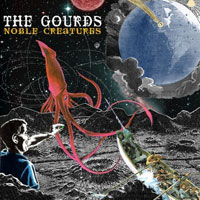 There've been times when one might play Austin-based quintet The Gourds' 2001 hick-hop cover of Snoop Dogg's "Gin & Juice" and hear: "Man, those Phish guys can play anything!"
But The Gourds are no jam band. Nor are they a one-joke wonder – these guys have been pumping out good, solid mixes of Southern rock, country, folk and superb songwriting for a good while.
At the center of their new LP, Noble Creatures, is one of the band's best efforts, the Kevin Russell-penned ballad "Promenade". The Gourds don't usually go the ballad route, but this song shows they can handle it nicely, with Russell's rough-hewn voice and regretful lyrics the focal point around which the band spins a quiet but grand sound – former Wilco member Max Johnston shines on fiddle here.
Though there are a higher-than-normal number of ballads on this Gourds album, longtime fans will find plenty to love from songwriters Russell and Jimmy Smith — from bouncy opener "How Will You Shine" to "The Gyroscopic" which seems equal parts Doug Sahm and Steve Miller.
By Jonathan Tully