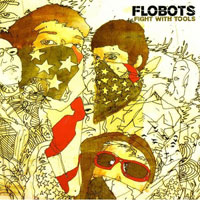 "There is a war going on for your mind." With nine small words Flobots introduces itself and its message to the masses on the group's first full-length album Fight With Tools. "There's a War Going On For Your Mind" is an extravagant piece and a great kick-off track for the album. Passionately delivered, the song sounds like spoken word poetry that paints poignant and vivid imagery. "We are the insurgents," professes the group.
"Same Thing" is a no frills piece where the band blatantly states, "U.S. is not us and us is not we and we are not satisfied (…) we want money for healthcare and public welfare (…) human needs not corporate greed drop the debt and legalize weed."
Flobots continues its message on tracks like "Stand Up" and "Handlebars" where they propel 9/11, the destructive flooding after Hurricane Katrina and injustice as a whole into the limelight. Fight With Tools is meant to be an intense album, and it is. With a finesse unlike many others, Flobots raises many valid points, but at times it can sound a bit preachy. Fight With Tools could easily be placed into a time capsule to be unearthed years from now and it would undeniably provide an insightful glimpse into American society.
Most rap/ hip-hop acts would never dream to focus on politics as their subject matter, nor do they have a viola, bass, guitar, drums or trumpet to accompany its emcees, but Flobots isn't like other acts. The group has a sound all its own and even if you don't agree with its message there's no denying that Flobots is a collaborative venture for seven outstanding musicians with many common goals: to intrigue listeners into engaging in thought, conversation and action.
By Esperanza Juarez