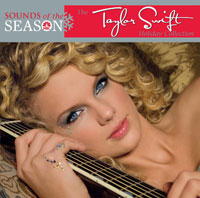 The Country/Christmas CD by Taylor Swift starts off with a sweet, hopeful rendition of "Last Christmas," crooned to a melodic mix of bells and guitar twangs.
She strikes that womanly chord that says, "It's ok girl, I feel your pain," and you sing along because, hey, it's pretty good. However, the next song? Kind of "eh." She tries at a sad Christmas song in "Christmases When You Were Mine," but while each of her notes strikes right on key, she lacks the soul you feel behind all great singers. She could be singing about… anything. And it kind of goes down from there.
Her lovely voice is wasted on "Santa Baby." I think we can all agree that the reason Eartha Kitt's version was so coveted was because she purred the words and played the part so that we all laughed along. Taylor, on the other hand, sings it in all seriousness — still harmonically correct and with her signature twangy country sound.
Once again, she could be singing about her trip to the post office for all we could tell. The rest of the CD is, like the second song, just alright. But hey, the girl is seventeen. She's got time.
By  Alison Maney