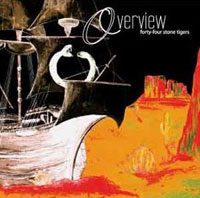 Overview released their first EP, Forty-Four Stone Tigers, in March 2007. The entire thing is a coherent punk album that starts off with a bang in "Scorpion Woman", intriguing the listener with catchy riffs and crooning vocals. I was drawn in from the first notes and immediate chorus; Overview takes no prisoners. Paul Miner (New Found Glory, Atreyu) has done a brilliant job mixing and mastering.
Clearly one of Overview's major strengths is control over the progression of the tracks, as well as within each song. Frequently changing the pace and flow, the band holds the listener's interest – I kept wondering how the song would change next. These songs are better written than the typical pop ballad or rock-out tune played on the radio, which tend to stick with one pace.
Lending its name to the album title, track three is an electronic mash-up that shows another side to Overview's skills: mellow and reminiscent of Orbital's self-titled cd of 1991, changing in instrumentation and speed. Not for long, as track four, "Maybe Dead at 27" shifts right back up to high gear with a rocking chorus and energetic guitars. One of the great things about this album is that the vocals as well as the music stand alone – the listener gets to hear them work together as well as independently for emphasis. No two tracks are particularly similar and yet Overview pulls it all together just as their name indicates. We'll be hearing more from these guys.
By  Lara Killian