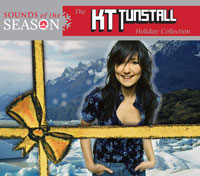 This girl just has it. A mere six songs, it has ranked as my favorite Christmas CD this season. "2000 Miles" swims out of the CD player with just the right edge and just the right amount of Signature Christmas Time Bells in the background.
"Christmas [Baby Please Come Home]" has a central emphasized beat that just makes you move, her sweet/husky voice holding passion, strength, and just a tad of Christmas Magic. (Bwahaha, I'm getting mushy on y'all.) But the best out of this medley of cheery Christmas delights? "Mele Kalikimaka [Christmas in Hawaii]."
My Dad listened to it more than any other Christmas song this year. She sings it soft and daintily, like an old-time singer from a black and white movie, but the concept is so funny you cheer right up listening to it. What else can I say? "Sleigh Ride" was creative and "Fairytale of New York" was hilarious, and "Lonely This Christmas" is sweet and sad. iPod worthy? Definitely. I'll still be playing this come spring.
By Alison Maney