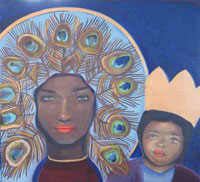 Madonna is endlessly fascinating as a video artist, performer, and personality, but–with rare exceptions–her music has never held up beyond the dance floor and TV. So what happens when better musicians take on her facile melodies and vapid lyrics? On Through the Wilderness, fifteen Madonna songs are interpreted in varied styles, with mixed results.
"Cherish" would be dreadful no matter who sang it; the Prayers' version is as unlistenable as Madonna's original. Ditto "Who's That Girl," performed here by the Bubonic Plague. Attempts to be interesting fail in Mountain Party's electronica "Material Girl" and in Lion of Panjshir's tabla-heavy, off-key rendition of "Crazy for You"; nice try, guys, but these songs don't have enough depth for what you're trying to do. Apollo Heights' rocked-up "Dress You Up" would have been good if not for the silly lyrics.
In "Oh Father" (Giant Drag) and "Hung Up" (the Tyde), though, intriguing vocals and guitars make up for lousy lyrics. "Lucky Star" shines with Alexandra Hope's crystalline voice and acoustic guitar. Lavender Diamond's "Like a Prayer" and Winter Flowers' "Live to Tell" succeed on their own while also inspiring (grudging) appreciation of Madonna's versions. And Golden Animals does a fun "Beautiful Stranger Blues." These songs salvage the CD. Twenty-five percent of its net proceeds will go to Raising Malawi, Madonna's organization for helping children in the African country.
By Nita Moon