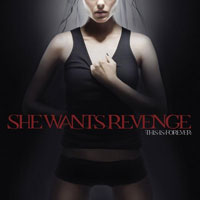 Wanna party like its 1985? In the best traditions of industrial/electronic Brit-Pop, California's own She Wants Revenge carries on the legacy of Depeche Mode to the darkness and debauchery of dance floors across world.
Their sophomore release, This Is Forever, from She Wants Revenge [SWR] gets your juices flowing with a mood molding intro that leads into tales of lovers scorned, beats that will have your hips shaking all night, and an energy that fits the scene perfectly.
Searching for love in today's complicated world, This is Forever is a lyrical ride reminding us of many different trials in life as we each try to find that perfect someone. From True Romance to She Will Always be a Broken Girl and This is The End, SWR takes you through different relationship experiences that seem to happen to everyone. Whether it's the one that got away, the one that just pretends, or the one you just couldn't fix — This Is Forever has a song for all those lost relationships you still think about, and may even "keep you up at night".
In the end, She Wants Revenge has a message for the ladies out there, on behalf of guys everywhere, "Learn how to be a woman, cuz in the end that's all I want."
Review By: Gary Jacobs