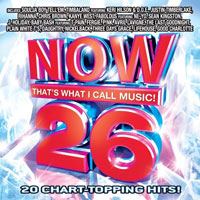 So how does an artist know when they have crossed the line from mainstream to pop music? That would be when their song appears on this CD. Now That's What I Call Music has been an awesome outlet for the labels to put 12 — 20 of the hottest and most commercial music all on one CD. If you love MTV or any KISS radio station across the US, you must get this CD. You no longer have to go buy all 20 CD's or download all 20 tracks you just need 1 CD.
This CD for which I am privileged to now have in my car for my girl is actually pretty good. It's got a very nice variety of music from various genres. It's got Kanye West, Fergie, Lifehouse, Soulja Boy, Timbaland, and much more.
Whether or not someone at Skope wants to admit it, pop music is the music of the masses. I am all about the long tail and niche genres but pop music has a place as well. When I listen to pop music I do not want to embellish or look too deep into it. I just want to sing along and dance. That is exactly why I can enjoy this CD. That is also why I have this CD in the car. No matter who is riding with me, I know that there are at least 2 songs on here that they will like. For my girl, those songs are, "Big Girls Don't Cry" and "The Way You Are." My favorite cut off the album is Nickelback's "Rock Star", great song!
By Stoli Razz