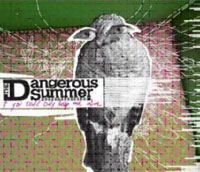 Fresh out of high school, The Dangerous Summer offers a forgettable EP that gets lost in the emo sea. All seven of the songs on If You Could Only Keep Me Alive are interchangeable, and they each include references to writing songs. You're writing songs. I get it. It's clearly a cathartic effort that doubles as juvenile with extremely straightforward lyrics that suggest little imagination, best showcased with the gem "I'm sending this shit out."
The instrumentals are decent, but the angst-ridden lyrics paired with the singer's harsh tone and the repetition of the line "I won't let this die" is all enough to make you wish the band preferred journaling to songwriting. The Dangerous Summer is just another mediocre band thriving on overdramatic lyrics that will only find fame in the Myspace profiles and AIM away messages of 13-year-olds.
Maybe they should've stayed in the garage for a few more years until they could find a sound that was a little less desperate and a little more unique. This type of band may kill at the high school talent show, but the music industry needs something a little more substantial and relatable to people who don't think cutting is cool.
By  Valerie Williams