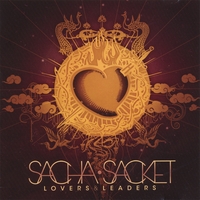 After listening a few times to Lovers & Leaders it is a total pleasure to write this review. This CD is simply incredible and every song on this piano driven disc is well crafted, as the songwriting is top notch and arrangements are refreshingly unique. Many of the songs have keyboard or loop sample for the beginning and then the songs turn into magnificent pieces of music that leaves you wanting to listen again.
Sacha's songs are mostly medium tempo with excellent stories, situations, relationships and people that all of us can relate to. Though the main instrument is piano, all other instruments are represented well and each of them have their proper place in the audio spectrum. Every instrument fits "like a glove" and feels like it belongs due in part to excellent production. The song structure builds beautifully from sparse beginnings to a full wall of sound as instruments gradually enter these arrangements. Sacha's voice not only has a beautiful tone, but has great range using falsetto when needed and it sounds great when he does. Every song is thoughtful and the emotion on this disc really comes through like early piano ballads from Billy Joel.
Some people may compare the voice to Coldplay or Elton John. His sound is fresh and his music has beautiful textures take you into other peoples lives. Great stories, great production and puts the listener in a good and thought provoking place. Sacha comes through on a personal level, with beautiful music that touches you emotionally.
Bottom line, Lovers & Leaders is one to add to your collection if you love storytellers and well-performed music.
By Peter Lucibelli