Another Song, Another Mile
By Martin Halo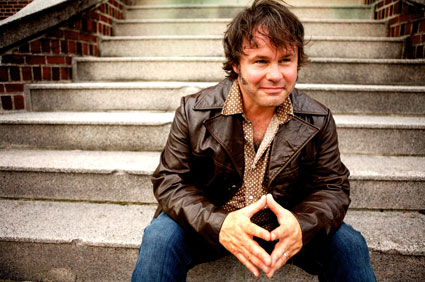 Touring in support of his seventh full-length LP, entitled Seeds, Martin Sexton is rounding out an American tour leg at New York's Roseland Ballroom in early December.   Fusing acoustic shake with the richness of Americana, Sexton has delivered a pressing of uplifting compositions that cut to the core of an audience searching for a clean mix of musicianship and hook.
Seeds is the culmination of a career spent slugging it out on the road and in an early morning conversation, while in Boston, the day before Thanksgiving, Sexton shares it all. To fully understand how this album is a milestone for Sexton, he starts by rewinding the clock and examining the struggles attached to the journey.  
"I went to Boston to release the music inside of me," says Sexton in a finely spoken soft tone.   "I had my Stratocaster and my suitcase and I got on an Amtrak train headed north for Boston.   Music was always something I loved.   Back in the 70s when I was a kid would steal records from my brothers and sisters.   Stevie Wonder's Songs in the Key of Life really lit my fire.   I would put the needle down on Frampton Comes Alive and the sound of the crowd along with the guitar licks on the first couple tunes made me desire music.   I fell in love with the Beatles, ten years after they broke up, along with Led Zeppelin and all that classic rock fed my soul as a kid."
"But you see," as Sexton continues, "I grew up in Syracuse, New York and the music scene there was pretty unfruitful.   It was kind of stagnant.   You could play weddings if you wanted to, or lounges but no clubs.   Syracuse is great place to be from but it is just landlocked.   So I had to move to Boston."
 "After getting fired from a bunch of jobs I started singing in the streets and in the subways.   I made my living at it for a couple of years," he offers.
"My intentions back then were simple," he states, "to get a gig as a front man for a funk band!   Music is the early 90s was loosing the big hair and was becoming more reliant on the groove.   I wore the same pair of Doc Martin's for eight years and had a pony tail of my own.   Since the funk band thing didn't pan out I started doing things on my own."
"Looking back on it, everything that happened in those early years was a blessing; at least I hope they were.   I don't know where I would be now.   If you want to get down to the truth the real blessing came for me when I failed by real estate exam in Syracuse," as laughter follows.   " thought I should get a job, so what better than real estate right?   Well tens years down the road Syracuse is the most depressed real estate market in the nation."
In the years that followed Sexton would tour the country, driving his own van accompanied by only a tour manager and the revolving sound technician. He released six full-length LPs to boot.   Not bad for a failed real estate broker, and funk band front man.    
"We have been everywhere now twice in North America and in UK touring in support of this record," in reference to Seeds.   Now the goal is to go once more and hit all of the cities I didn't get to hit through the legs and then we are going to start recording the next record."
But with future plans on the horizon the conversation shifts to the conception of the Seeds recording.
"I was playing a lot of piano at the time," he says.   "There wasn't any big strife, pain, or loss in my life in the year leading up to writing the record.   This is most likely why the album is filled with light, happy themes to it.   I did basic tracking at a studio in Boston called Q-Division.   We recorded the piano live on the floor."
"Because I didn't have lyrics for the verses we scratch tracked the vocals.   I had all of the songs written musically with the choruses but I didn't have any verses.   To me, that was the hardest part.   I would just improve melodies during takes.   When we did the over dubbing process that was when I wrote the lyrics in my cabin buried in the Adirondacks.     It was different from any recording process I did in the past because I have always written the song first, then practiced, and then recorded them live.   Seeds was the first record where the vocals were not live with the tracks."
"The spontaneity helped the process a lot.   There are lyrics on the record that just came out which would have never probably been written if I was sitting down with a pen and paper.   There are lines the evoke imagery instead of dictating what you are supposed to see.   I call it the "John Lennon School of Writing," meaning just make shit up that when heard going by evokes an image."
The one song on Seeds that is on constant repeat while driving is a roots moan entitled "There Go I," and Sexton was happy to tell the tale.
"The song 'There Go I" was co-written by producer Curt Harmon at my house in Massachusetts.   He has worked on most of the records I have ever made and has helped in so many ways.   It was meant to be a list of things we were grateful for.   I wrote it in ten minutes."
"The song came around because I ran to get some strings at the music store and the guy at the counter was kind of an asshole.   I couldn't help but talk about it when I returned home and we decided that for the grace of God it could be you or I working behind that counter.   The guy was probably a frustrated musician.   We felt sympathy and I was sitting on amp playing an old Epiphone; it just came out," Sexton says.
"I mean I am happy not to be laying carpet or anything.   I am grateful to get paid to do music."
And playing music is just what Sexton does.   Embarking on a Bio-Diesel Bus Tour, the experience is far different than what the self made musician is used to.   "Well this past year of touring has been different because I have a crew and a bus now.   I kind of missed out on some of that road life that I am accustomed to, traveling in my own van and trailer.   I came home from hundreds of thousands of miles of touring and I didn't even have any physical piece to show for it.   Usually I am picking stuff up, like antiques or at least something," Sexton says.   "With a bus you are kind of in this little time pod.   You get in it and you wake up in another time zone.   I can't complain though it was exciting stepping out of the bus right to the backstage door to the club."
"I am so happy to be on the road because when I am onstage everything is alright.   It feels like I am doing what I am supposed to be doing.   I am content and I am passionate."
"I have toured with nothing.   Just me in a van with a sound guy, it is not something that can break me.   The bus with the crew is nice but I still love driving around eating barbeque at every stop along the way," as laughter follows.
To conclude the interview I ask how the artist sees the current state of music revolving around him and he responds, "It is hard for me to say anything without sounding judgmental.   My observation is that… rock n' roll is a highway.   It is kind of like old route 66.   It started with this beautiful intention with a rebellious nature.   There used to be an exit every once in a while where you could stop and pick up commerce on the rock n' roll highway.   You know what I am saying? Meaning you could stop every once in a while and buy something along the way.   Now, I wake up in the 2000s and as the sun comes up what I see is an old highway that is filled with commerce; it is the exits for rock n' roll that are now few and far between."
Sexton's plans for the future include the recording of a new LP and an upcoming boat cruise booked alongside John Mayer in February of 2008.