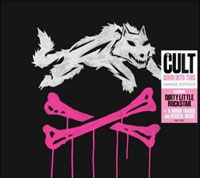 This disc was surprisingly, well in a word, surprising. A refreshing "Non-rehash" of material, there's a lot to like here. The band has rebounded with a heavier rounded sound that would fit being on a live bill with someone like U2 or Velvet Revolver.
The title track "Born Into This" and "Citizens" are rockers with guitar squeals in all of the right places. "Holy Mountain" is a nice relationship based ballad-like piece that the Stones would have sounded good doing. "I Assassin" hits a drum bass groove, and delivers. "Tiger In The Sun" delivers in a Blue October sort of way. "Savages" is a hard driving song that John Waite should cover. Singer Ian Asbury's style and delivery are unique, and must have influenced others like early Billy Idol.
What impresses me about this band at this point in their career, is it's ability to start a song with sounds, riffs, attacks, that can bring to mind The Beatles or The Stones, then change directions on a dime taking you on a thrill ride. Not being satisfied with following a bands historical sound and patterns is necessary for overall longevity. It's garage band taken to yet another level, which is a good thing!
By RME