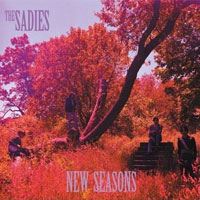 With an unusual and versatile combination that infuses bluegrass, surf, rock, and funk, The Sadies breakthrough from Toronto in a style that is undoubtedly American with their release of New Seasons in 2007.
This disc is beautifully composed with an un-manufactured sound, mainly eluding from overuse of modern recording technology and getting back to the bare bones of melodic sound. The lyrics are clever, well written, adaptable, and multidimensional with the style of song they are representing.
"The First Inquisition Part IV" has a garage style rock reminiscent of early works of The Shins while "The Trial" has an old western yet folk sound concluding with a tinge of psychedelic jam. New Seasons is instrumentally strong and The Sadies exude a confident vibe with Dallas Good's lyrical styling.
This CD is perfect for a long drive with lots of different landscapes as every track on New Seasons takes you on a series of diverse and exhilarating turns.
Review By: Laurie Sodergren