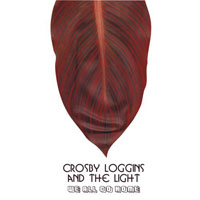 I caught Crosby opening for Joe Bonamassa (to whose label he's signed). Playing solo live with a rack of acoustic guitars and a massive pedal board, he usually tours with a band as 'Crosby Loggins And The Light'. At one point he thanked his parents, David Crosby and Melissa Etheridge. Opening for one of the premiere blues players in the business is no easy task, but some of his material is a bluesy mix that Joe often deals in, and it fits. The tall son of Kenny Loggins even leans toward the mike like his famous dad.
Although his style is his own, his vocals and delivery are sometimes reminiscent of his dad, James Taylor, Jackson Browne, and Lindsay Buckingham, especially on his medley combining Fleetwood Mac's World Turning and Stevie Wonder's Superstition. "Good Enough" is a catchy song with a structure that worked well for Jacob Dylan. "Always Catching Up" is an upbeat song (about a girl of course), done in a style that would suit a lot of the heavier rock bands. "March On America" is a heavier guitar laden song, part protest, part warning. "Here She Comes" is where Crosby throws a ballad at you about, guess what, a girl (something we men can identify with)! "Radio Song" could have been successful for Green Day or The Cranberries. "Angel Of Mercy" is another great easy moving ballad.
What I like most about We All Go Home, is that you could pull off the songs one at a time, and throw one on the jazz station play list, one on the Top 40 station, one on the blues station, put one on a movie soundtrack, and another on the station that plays Bush, Green Day, and Maroon 5. The guy is multi-talented and has successfully learned from his influences without letting them individually influence his overall style.
By RME