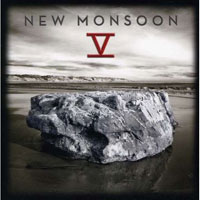 They sure picked the wrong cat to review this new album by New Monsoon. I accidentally referred to it as "happy garbage" to the editors here at Skope, but what I meant to say was "hippy garbage." It really works either way as long as you keep the garbage part in. Growing up in New Hampshire does one of two things, it embeds a love of jam bands or it breeds a loathing for jam bands. I developed the latter. And this is my response to New Monsoon and their album, V.
New Monsoon's new monstrosity is track after track of unoriginal, auditory philandering, stealing directly or indirectly from the Allman Brothers' "Jessica" ("Song For Marie"), Bob Marley's "No Woman No Cry" ("Neon Block") and James Taylor's "Carolina In My Mind" ("Water Vein") come to mind. The only original thing is that most songs clock in at a meandering 6 minute average — Oh wait. Strike that. It's like being raped by patchouli and Phish Food while Dave Matthews Band dumps their camper waste on your soul. Which actually sounds better than this now that I think about it.
If you like jam bands like (NM label mates) String Cheese Incident or Umphrey's McGee then please take this album and shove it. I can't listen to it no more.
By Brian McKinney