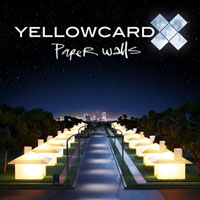 Yellowcard returns with its third major label release, Paper Walls, showcasing once again that this young band from California has the chops to make a career out of singing about love, of loss and getting it all back again.
Riding on the wave of the so called emo revolution, Yellowcard has distinguished itself from among the sea of peers as a force to be reckoned with, both emotionally and musically. Paper Walls is an energy driven album has the makings of becoming a classic; from the anthemic "Light Up The Sky", the infectious whoa-ohs of "Fighting", to the touching "Dear Bobbie". Nothing quite catches the disappointments and happiness in life as the riveting "Shadows and Regrets", their best to date.
This time around there is a maturity in lyrics and sound, brought to life by the melodic guitar riffs, electro-violin rhythms (more prominent than in their prior edgier release, Lights and Sounds) and vocal harmonies that define Yellowcard.
It is impossible not to be impressed by this collective effort from Ryan Key and the boys. It is refreshing to see a band grow together and having the insight to channel their angst into art, instead of nurturing self destruction. Get your hands on a copy of this album — today!
By  Jennifer Weissert